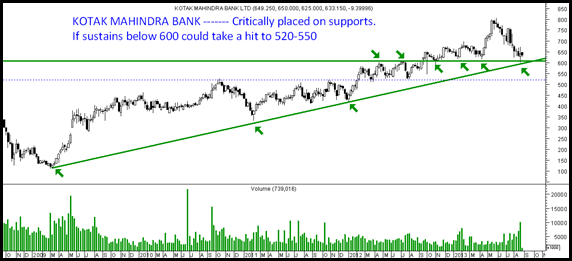 TECHNICAL ANALYSIS TRAINING SESSION BANGALORE
AUGUST 31-1 September
Kotak Mahindra Bank Technical Analysis
-> The stock has been in a super uptrend on long term charts.
-> 600 has been a strong support for last 1 year. Earlier the same was a resistance.
-> Longer term trendline also comes at 600.
-> The strategy in such case should be to watch for either strong reversal above recent weekly highs like 650-660 for a reversal or initiate fresh shorts on momentum below 600.
-> Sustaining below 600 will open up downsides to 520-550 which has been last 2-3 year lows.
The major reason to look for Kotak is the fact that Bank Nifty has broken major trendlines on long term so many other banking stocks could do the same.