The last 2-3 weeks have been terrible for broader markets but fridays hit on Sensex , Nifty has suddenly made people aware of the crisis.
Given the fact that Bse Midcap, Bse Smallcap, CNX Midcap, Bank Nifty and many other sectoral indices have fallen much before did not ring a bell. But a 750 points drop on Sensex gets the headline – Sensex crashes 750 points on Black Friday and so on.  On this big Black Friday , surprisingly Midcap Indices feel 3% against the 4% drop on benchmark. Seems more like catchup by benchmark index. USD INR has crossed 62.
Before we look at the broader picture lets have a look at the technical picture.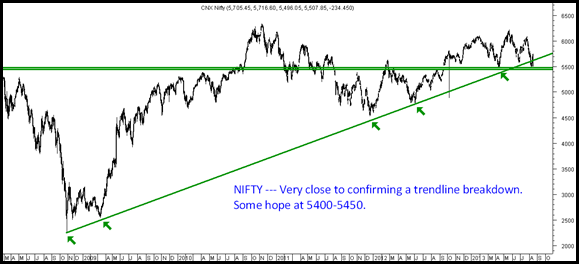 Nifty Technical View
-> In my previous views at 5500-5600 was very bullish and even looking at a possibility of 6200 being hit and even getting crossed. Also USD – INR topping out at 59-60.
-> After the report we saw a drop to 5570-5600 and a bounce all the way to 6090. Not far from the 6200 band. Luckily we could get a lot of good trades in that period in Nifty.
-> Post that the whole bullish side of things went for a toss and have been posting a lot of warnings on why to not go bottom fishing in stocks like Financial Tech or others. ( we did dip into Wockhardt and taking a hit but holding on )
-> Although Nifty has been struggling around 5500-5700 but broader market indices have collapsed with midcaps being badly hit.  The reason is the polarization of the Index towards IT, Pharma and defensives as well as towards the Top 20. In my previous posts over last 2 years have mentioned how Nifty weightages have changed the Nifty – Market kya lagta hai , Nifty Index weightages , Nifty Calculator 2011
Finally someone took a cue on this side of the index weightage. Crisil has done a good summary of the wieghtages and how Nifty is entirely different from what it was in 2008 and 2013–
-> Such is the weightage polarization and Nifty being in a tight range of 5500-5900 on closing basis over last 3-4 months its become difficult to take a clear cut Nifty trade. For example a 10% rise in ITC and Reliance itself can take the Nifty up by 70-100 points and vice versa. Now add to this a counter move in some other biggies like HDFC, ICICI Bank, Infosys and TCS. So one needs to look at the top 10-20 stocks also closely.
-> Nifty on pure technicals without looking at top 10-20 stocks is clearly now in a downtrend but there is no momentum. Some hope comes for a bounce from 5400-5450 with positive divergences, inter-market divergences and highly oversold zones like before. But will that stay for long is the question with Nifty almost close at break of the trendline.
-> The triangle is huge and a pure technical approach gives us a downside of at least 500-700 points or much much more on breakdown. The only reason we are a bit neutral is that not many heavies are on verge of similar breakdowns. Infosys, ITC , Reliance, TCS etc still in good shape.
-> All said and done if it does break down and catches momentum because of USD-INR or other factors one should be ready for the Worst and hope for the Best.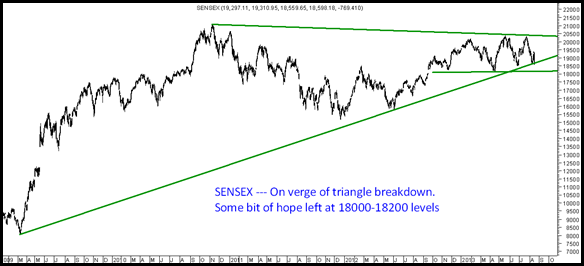 Sensex Technical View
-> Now here comes another intermarket divergence where Sensex has not broken recent lows similar to Nifty and is still above the trendline.
-> There is some hope at 18000-18200 for a short term support.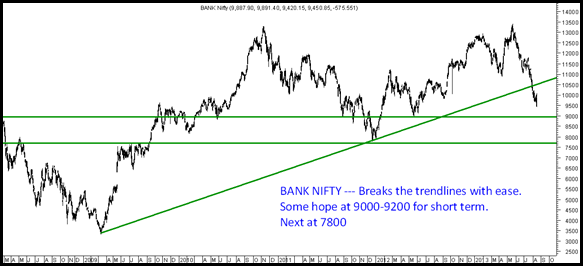 Bank Nifty Technical View :
-> This is another surprise as over the last 6-7 years we have not seen Bank Nifty go opposite to the Nifty or underperform in such a big way.
-> Comfortably breaking all trendlines and now approaching ( 4800 levels of Nifty ) at 9000-9200 where we can have some short term bounce.
-> The trend has definitely changed down and the risk is with banks like HDFC, Kotak which have been holding fort in previous corrections.
-> PSU banks have been damaged so badly that it stinks of something terrible in them or the biggest over reaction in last 10 years with lowest price-book and highest div yields like 9-11% in some cases. ( Dividends may be reduced big time next year it seems) .Was bullish on some PSU Banks at much higher levels than today but being a techie the stoploss has saved the erosion. Look at this post on SBI at 2000 , got it terribly wrong there ( Stoplosses are a savior)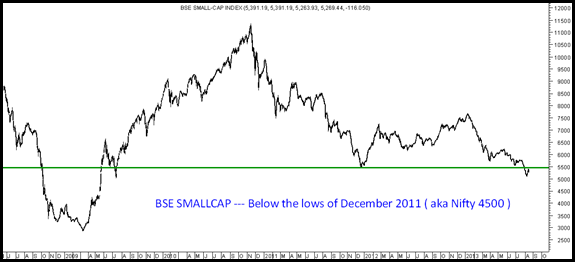 BSE SMALLCAP
-> The biggest hit has been smallcaps where stocks have dropped 95% from peak also or even more.
-> It is even below 2011 December lows !!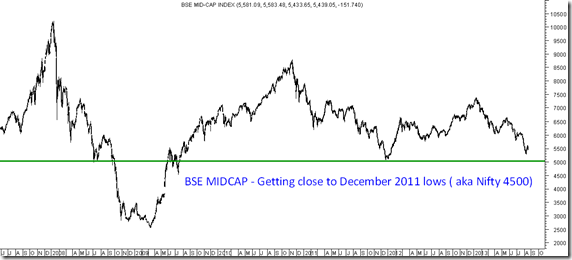 BSE MIDCAP TECHNICAL VIEW -
-> This is not far from December 2011 lows ( Nifty 4500). It is because of some quality midcaps with big weightage the index still looks ok. Else its a mayhem for many midcap companies.
Now come to the part of how to trade this market.
Midcaps have been damaged, Smallcaps killed and Index still holding on. There can be further damage to largecaps but at some price many midcaps will be way too value and find a base. Largecaps are pretty well priced with many stocks at 30-40 p-es and p-b of 4-5 for some banks.
At the same time some stocks are in superb uptrends and giving new all time highs.
So it is now a time to be very stock specific – Look at the trades we suggested like Biocon, Tech Mahindra, Bharti Airtel and many more which have performed even in this markets.
Simply put -------- Be very careful, patient, conserve capital and be very stock specific. Because even a wrong short trade will also be a bad hit.
Now coming to other thoughts
In last few weeks have met a lot of people in various industries and absolutely no one seems to be happy with the business apart from friends in IT space ( jobs and startups ). Rather there is a serious downturn in many business ,verge of closing down , huge losses, piled up inventories, reduced ad spends and so on. Fresh graduates, CAs, MBAs are having a rather tough time finding good jobs and worst part is the education fees were never so high. I remember doing my engineering course of 4 years for 60-70k in 2002-2006 and in 10 years now that does not pay up even for a year in schools or engineering colleges. ( MBAs are way to costly, Studying Abroad is up 20% in 2 months ).
Recent news of 300-600 people being laid off by Network 18 is terrible. Because there is never just one company laying off. When it starts it goes on like a chain reaction. Its like a deja vu ( 2008 ) but will this time will we be out of it soon because of improved sentiments. ( Rise of 2009 in elections. Can 2014 elections do the same? ). Really dont know the answer to this.
People in equities have already seen a 5 year rut and many linked businesses have started closing since a couple of years. Also markets tend to be 6-12 months earlier than the real economy. So next few quarters can be terrible for businesses , jobs and so on but will hopefully lead to a major panic bottom for Equities ( not just the benchmark)
But this is how life is with ups and downs. Businesses, jobs etc and so on. Here i would like to put an old wisdom which an old investor says – Ye Waqt Guzar Jayega , No Situation is Permanent or Forever. In every adversity lies and Opportunity for the Future.
Believe that this is the right time to enjoy the time with friends,family and take the pleasure of small things than to crib , debate, sulk about the economy 🙂 . Because a year of bad times you crib and when the cycle rolls up we are back working more than ever !
Also this time around if you have not put some investments do so in small lots of 5-10 % of your allocation every month for next 10-12 months and you will be rewarded.
No Situation is Permanent !
Cheers,
Nooresh Merani