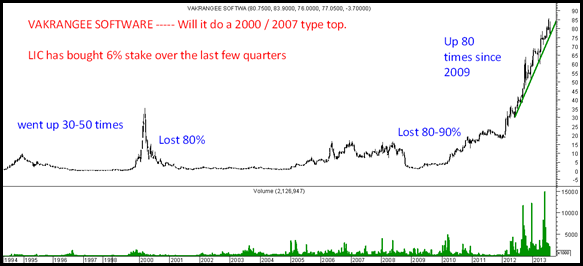 As of yesterday Vakrangee is almost a 3800 cr market cap company quoting at 35 multiple.
Given the super growth in of 40 % in earnings over 10 years and 50% sales growth definitely the rise cannot be totally uncalled for.
In terms of market cap it is in the top 10 IT companies in India which is a kind of surprise. Only behind Mphasis and Tech Mahindra.
Whereas it is much bigger than hexaware , persistent , mindtree , financial tech.
The only concern with the stock has been that after such huge earnings and price growth  the stock has corrected sharply in 2000 and 2007 where it lost 80-90% from peak.
Missed the stock in 2006-2007 because could not understand felt better in 2008 seeing it fall. Same thing happened when i looked at it in 2010 – ( stock is up 10 times ). Maybe this time its different.
But can this time be different. We have LIC which has taken  6.45 % stake ) , Promoters have increased stake as well.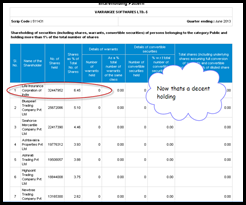 The only concern is why is LIC increasing stake quarter on quarter for the last 3-4 quarters and is now taken it to 6.45% stake which is a decent holding.
Today the stock is down 15% can it be the start of the dump. Will need to recheck on the fundamentals but previous drops in 2000/2001 and 2007 makes this a risky bet. Earnings growth and decent delivery volumes do not give much doubt but the steady rise in such tough market times shows control.
Got to be careful if you are holding this one.
Disclosure: No Holdings or vested interests in the above stock.
TECHNICAL ANALYSIS TRAINING SESSION MUMBAI
AUGUST 10-11
Can check a brief on the course outline https://nooreshtech.co.in/technical-analysis-training
For more details mail on nooreshtech@analyseindia.com or call Nooresh 09819225396 Ankit 09899899989
Nooresh Merani
www.analyseindia.com   ( For all our services )
Twitter – https://twitter.com/nooreshtech
Facebook – https://www.facebook.com/nooreshtech