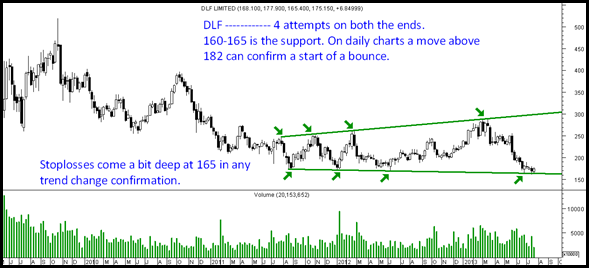 Over the last 1-2 years the stock has been oscillating between 160-170 on the lower end and 250-300 on the upside in a big channel.
Above is a weekly chart for the stock.
There have been 4 attempts at both the end of the channel.
Right now the stock is finding support at 160-165 on weekly time frame.
On daily charts a move above 182 can be first indications of a trend change.
A trading stoploss comes deep at 165 on a closing basis.
Given the stock being highly volatile a conservative trader can give it a miss.
Disclosure: Not recommended but might look for intra day trades in momentum or a Option trade on breakout.
In other news the much awaited announcement by Holcim has come out with the announcement of a restructuring where it will basically end up cleaning up the cash of Ambuja Cements.
This is the link on the proposed deal.
https://www.moneycontrol.com/news/business/holcim-ups-stakeambuja-cements_924432.html
This is the view from Anil Singhvi – ex CEO and MD of Ambuja Cements has lashed the holcim management as he sees no advantage in the Holcim – Ambuja merger. He calls this as a fraud on minority shareholders.
https://www.moneycontrol.com/news/business/see-no-advantageholcim-ambuja-merger-anil-singhvi_924520.html 
Although Holcim owns majority stake in Ambuja Cements for last many years and it might be hurting to see the accumulated cash of 3800 crores lying unused 🙂 So this deal augurs really well for Holcim and anyways who cares for the minority shareholders in India 🙂
Can any body be looking into this deal and stop such a hit on minority shareholders ?
The worst part about the decision is got a rumour in the day that Ambuja Cements may crack sharply tomorrow and the news has come out to be unfavorable !! How come some speculators are privy to such information.
Also more surprising is the fact stock rallied from 170 to 210 in last month. In last four days it has fallen from 212 to 190.
Was this a trap ? done by insiders or market players.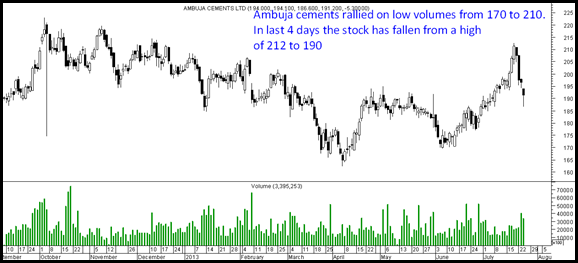 A fall tomorrow seems inevitable but the extent is what market will decide. Some people expect a drop of 10-20% or even more.
This will be an interesting case. Will there be some activism and stop it ?
In India many promoters tend to screw minority shareholders through warrants, siphoning, royalty, pledging, CEO salaries and various ways. But when one sees large companies end up doing the same it is high time there is some activism and regulation. In another post will try to pick out some recent instances.
A BSE listed company uses cash to buy real estate ! after selling of the company !
A BSE listed company has a 90 cr theft loss and no FIR 🙂
A BSE listed company pays CEO 70 crores a year.
There are 10 BSE listed companies with the same address.
If time permits will write a post on the above.
There is a nice saying in India Businesses go Bankrupt and Promoters never 🙂 Bank – Rupt in India means the Bank foots the bill 🙂 ( NPAs and NPAs )
TECHNICAL ANALYSIS TRAINING SESSION MUMBAI
AUGUST 10-11
Can check a brief on the course outline https://nooreshtech.co.in/technical-analysis-training
For more details mail on nooreshtech@analyseindia.com or call Nooresh 09819225396 Ankit 09899899989
Nooresh Merani
www.analyseindia.com   ( For all our services )
Twitter – https://twitter.com/nooreshtech
Facebook – https://www.facebook.com/nooreshtech