Hi,
To be very candid we turned bullish way too early at 5700-5800 it seems and we are now staring at the closing stops of 5600 being taken off. Also some of the sectoral expectation of PSU banks stopped out in no while.
Also there are serious doubts on the longer term structure given the global conditions. But technically on a simpler basis 5540 on daily prices and 5600 on 2-3 days closing basis will make us review our positive stance and get out for once.
On Dow theory 5477 is the level which if holds we continue to remain optimistic over the long run.
Technical View:
-> RSI is showing positive divergence as well as is it oversold levels of previous bottoms like 4500/4800 and 5477.
-> Only time we have seen markets getting more oversold then this is in the sharp panic falls of 2007/2008. We did not have any euphoria in 2010/2012 to warrant such a panic now.
-> Midcap and Smallcap indices are already in capitulation with 80% of the stocks below 200 dema on NSE
-> A confirmation of reversal comes above 5750-5800 levels.
All in all stick around for some more time at 5540-5600 levels and wait for markets to stabilize. All in all we stick to the bullish stance till the market prices prove it wrong.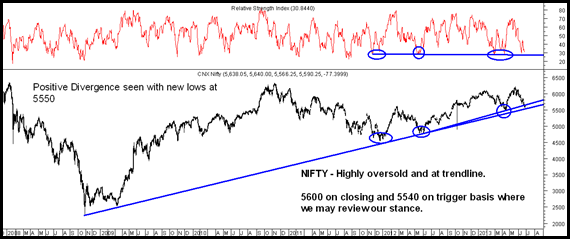 Bottomline : Its a time to stay calm and let markets stabilize.