After the previous post on Karnataka Bank which has given a nice breakout and Grasim waiting for 3000.
Some more charts which look interesting
Century Textiles – The downward trend line is broken on the upside indicating selling pressure is finally over. After a consolidation for the past few weeks can expect a bounce to 315-330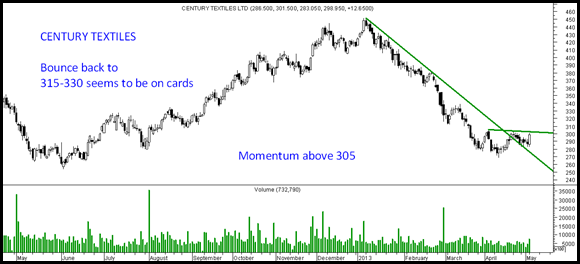 Crompton Greaves --- A small bounce to 105 is possible. Review on closing above for a fresh trend change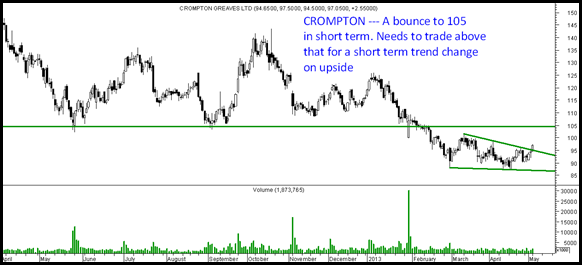 MTNL – Another dead stock finally seems to be coming to life with large volumes today. This can even be a bet for the next 1 year if market men are to be believed with a possible upside to 40-50  ( Market rumours ). Technically 25 seems to be on cards.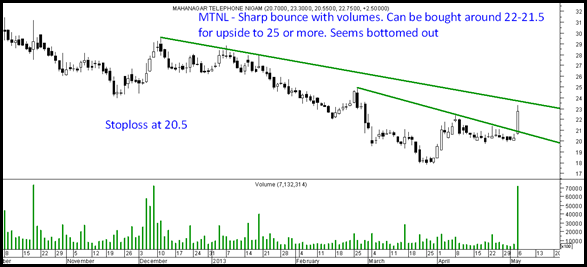 NMDC – Can coming into the index make a difference to the stock? Falling wedge gives us a good risk reward with stoploss of 123. Short term bounce to 136 and beyond that could be a major trend change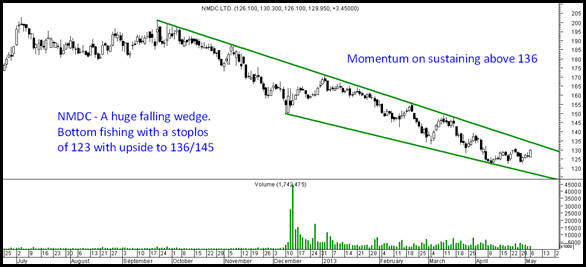 SINTEX --- Another fallen hero finally seems to be turning around again. A quick bounce to 53-55. Beyond 55 we could even look at 65. Good risk reward. Stoploss at 48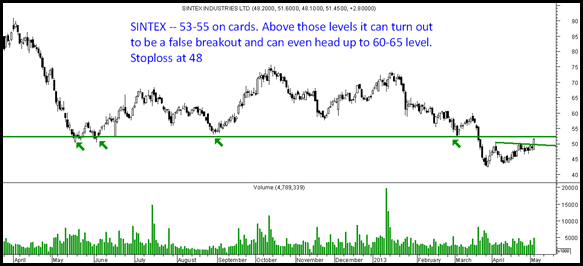 Another small cap stock which we have picked up as a short term trade is Elecon Engineering.
Disclosure: Would have recommended some of the stocks today in the above and some might be on radar
TECHNICAL ANALYSIS WORKSHOP – FRESH SCHEDULE
MUMBAI – MAY 18-19
FOR MORE DETAILS MAIL TO ANALYSEINDIA@ANALYSEINDIA.COM OR CALL NOORESH 09819225396 ANKIT 09899899989
Best Regards,
Nooresh Merani
www.analyseindia.com   ( For all our services )
Twitter - https://twitter.com/nooreshtech 
Facebook - https://www.facebook.com/nooreshtech