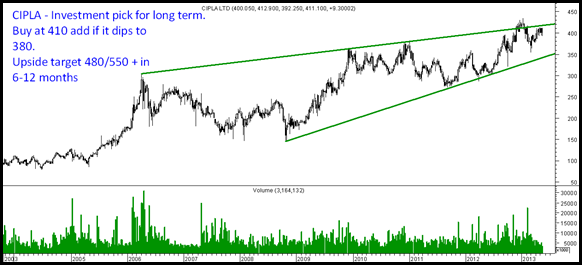 Quick Technical View:
-> Technically Cipla is testing the 5-6 year trendline which we expect would breakout on the upside in the future.
-> At current levels of 410 the short term breakout is at 415-420 above which can see a quick spurt to 450. ( this is the short term idea generated today )
-> Given its a pharma stock comes into low beta gives us a good risk-reward opportunity. Fundamentally things are changing as per a quick analysis.
-> Personal expectation is in the next 1-2 years the stock can go the Hindustan Unilever way ( Had been recommending from 270-330 ) . Can surprise beyond the targets mentioned.
-> A must in a large cap portfolio for long term.
Disclosure: Invested with a long term view and trading regularly only on the long side 🙂 and a personal favorite.
Nooresh Merani
www.analyseindia.com   ( For all our services )
Twitter – https://twitter.com/nooreshtech
Facebook – https://www.facebook.com/nooreshtech