In the last few days when the index fell i had been tweeting about going long at 6000 and buying 6000 call which has given a nice return.
Following are the messages sent to clients of our QuickGains Premium Plus Service and Newsletter Service .
(27-05-2013 09:23:33): Buy Gulf oilcor above 68 stoploss 65 and targets 73-75
(27-05-2013 09:29:34): Buy NIFTY at 6010-6015 stoploss 5975 and targets 6080-6100
(27-05-2013 10:14:08): Buy HDFC at 916-918 stoploss 906 targets 935-940
(27-05-2013 14:34:03): Book half NIfty futures at 6057-6060
(27-05-2013 14:47:10): Book fully at 85-90 ..  11:38:09 AM  meraninooresh: Buy 6000 call at 40-47 stoploss 30 tgt 100
(27-05-2013 14:55:52): HDFC book fully at 929-930
(27-05-2013 14:56:01): Nifty book fully at 6090-6095
Also we at Analyse India do keep coming on some business channels like CNBC ( watch me on Bulls Eye this week ) and ET Now. Recently we had Ankit Chaudhary win the Buy Now Sell Now Game on ET Now as a debutant.
Below is the link for this video.
and this is the winning snap.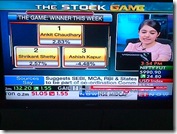 TECHNICAL ANALYSIS TRAINING SESSIONS
We are getting quite a few inquiries for Chennai Program. Planning to keep one session in June 3-4 th weekend. If interested do mail us on analyseindia@analyseindia.com
TECHNICAL ANALYSIS TRAINING SESSION — ( ONLINE )
June 8-9
All you need is a broadband connection and pair of head phones.
Nooresh Merani
www.analyseindia.com   ( For all our services )
Twitter – https://twitter.com/nooreshtech
Facebook – https://www.facebook.com/nooreshtech