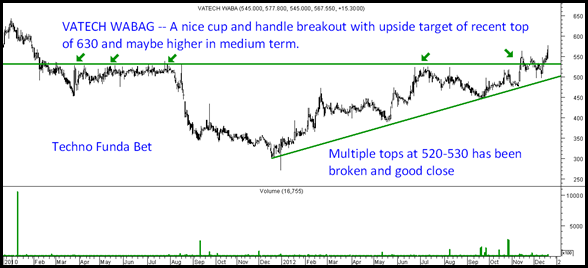 VATECH WABAG -- A nice cup and handle breakout with upside target of recent top
of 630 and maybe higher in medium term.
Multiple tops at 520-530 has been
broken and good close.
Technically a stoploss would be closing below 520
Also one of the best bets in the water treatment business with a long term view.
Meanwhile tomorrow is 21-12-2012 which according to the Mayan Calendar is the last day of the world. Enjoy the day tomorrow. If we live to see the end of 2012 then be ready for few more years of Technical Analysis posts from me 🙂
TECHNICAL ANALYSIS TRAINING SESSION
Tentative schedule
Delhi – January 7-8th and Bangalore 14-15 th January 2013