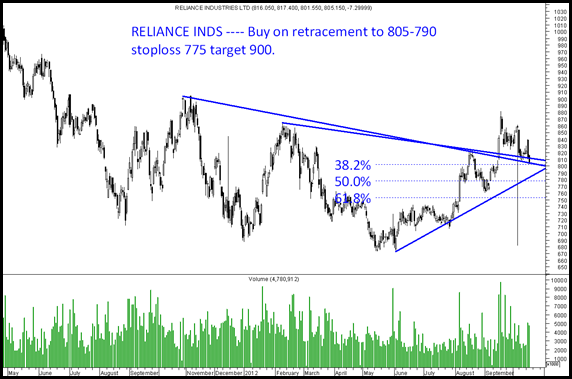 Reliance Inds – Continues to be a favorite in large caps. After a good dip from 880 to 800 looks interesting.
Can accumulate the stock with a stoploss of 775.
Will be difficult to update many stocks as it becomes a conflict with existing clients so focusing only on large caps from now on the blog.
Analyse India is conducting a TECHNICAL ANALYSIS TRAINING SESSION ONLINE on  OCTOBER 27-28
Session Details.
Venue : Onine on Webex or some other Online platform with screen sharing
Fees : Rs 8000.
Timings – 10 a.m to 5.30 p.m
Batch Size - 6-10 participants.
Also  Nooresh Merani -  ANALYSE INDIA has been quoted in The ECONOMIC TIMES today on PAGE 10.
Those who do not have a hard copy this is the link
https://economictimes.indiatimes.com/markets/analysis/sms-tips-may-be-tempting-but-not-worth-the-risk-for-retail-investors/articleshow/16859433.cms
Best Regards,
Nooresh