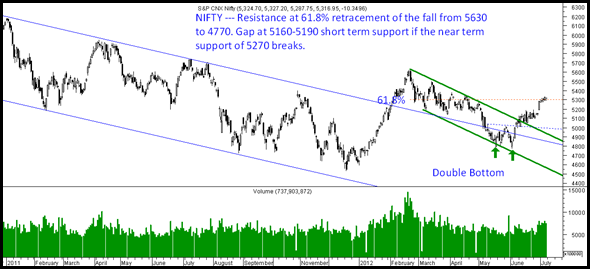 Nifty Technical View:
- > In the last 3-4 sessions Nifty has been very sluggish but holding on to the 5260-5270 support levels.
- > On the upside 61% retracement and previous tops at 5380 will remain a resistance.
- > So for now we may expect a ping-pong between this range. A drop below 5260 can open up gap filling at 5160-5190 where one may review for fresh longs. Till then go stock specific.
- > The last 4 sessions of sluggish moves has seen steady gains on midcap and small cap indices. We continue to expect that action will continue on the broader markets.
Sunday Thoughts :
In my previous posts had mentioned about June being the next January. Although our view was a bottom would be around 4900-5000 and we got fully invested in this period as were expecting a move similar to january where no one could get in. For the month of June index has moved from 4850 to 5320 which is a decent move. For January move it continued in February as well.
We may expect the follow up will continue into July as well with lot of stock specific action. With earnings season we may see some pullback on over run stocks as no major expectations this quarter from results.
Continue to be stock specific.
Above all at 4800-4900 we would get a lot of queries of what to sell or just sell off everything and go its May and so on as every body on the street was so sure of 4500-4600 and some even looking at 4200. The fear was very high and nobody was ready to dip into midcaps/smallcaps at all. Many of midcaps have moved up 15-35% in this period. So be patient and disciplined without listening to the voice.
Now i see no one asking about portfolio shuffing or increasing cash. Over the years have believed the best time to shuffle a portfolio or increasing cash is simple – Review when the markets have bounced back. The current rise should well be used to increase cash by reducing no of stocks in the portfolio and exiting ones you are not convinced of or just bought on a tip. Use the same cash to buy slowly into quality stocks.
Continue to be very optimistic on indian equities and may consider any sharp drop on monsoon,europe concerns etc over the next couple of months as an excellent opportunity to buy. We might be headed for a pretty decent year ending.
Stock Specific Observations
- > Triveni Engineering at 18 rs looks the best bet in sugar sector. Sugar sector people are expecting a turnaround in the cycle. Triveni with a capacity equivalent of Balrampur Chini  and market cap of 460 crores and a 22% holding in triveni turbines itself worth 300-320 crores + other profitable business units gives a limited downside and a strong upside possibility with a sugar cycle turn.
Disclosure : recommended as a long term pick at 13-13.5 rs to Wealthwyse clients a month back.
-> Volume action in Anik Inds,Astra microwave, Ballarpur Inds, Birla Corporation suggests some accumulation. If anyone tracking the stocks do comment !!
-> Maintain positive view on Midcap banking space and top bets being iob south india bank and dena bank
TECHNICAL ANALYSIS TRAINING SESSION MUMBAI — JULY 14-15. For more details mail us on analyseindia@analyseindia.com with your contact details.
Best Regards,
Nooresh Merani
09819225396  ( only after market hours )
Happy Investing,