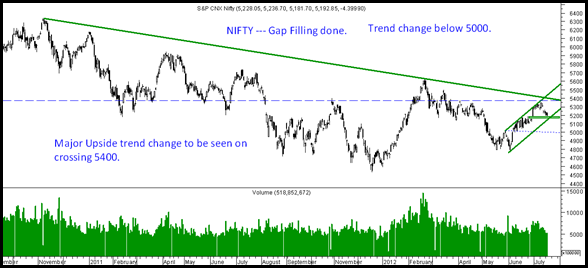 Nifty Technical View :
-> The gap at 5160-5190 is getting filled.
- > Parallel Channel support at 5150.
- > 200 dema and 50 dema are both placed at 5150.
- > 200 day simple moving average is placed around 5090-5100.
With a cluster of supports at 5100/5190 one may look for a long initiation. A trading stoploss would be at 5080 or a major stoploss at 5000 for a trend change.
On the upside a major resistance remains at 5400 which has been a critical level for last many months. Expect a major momentum and uptrend above 5400.
Stocks to watch for: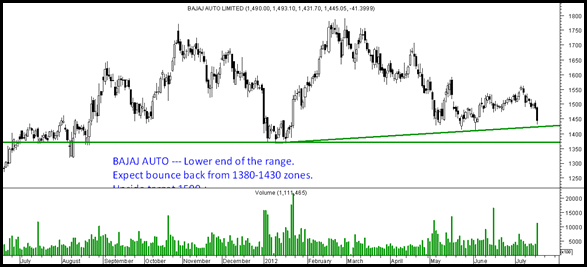 Above chart is dividend adjusted. So now the support levels have shifted to 1430/1380. Stock is closing in on lower end of the channel. Expect some bounce back from the lower end of the range.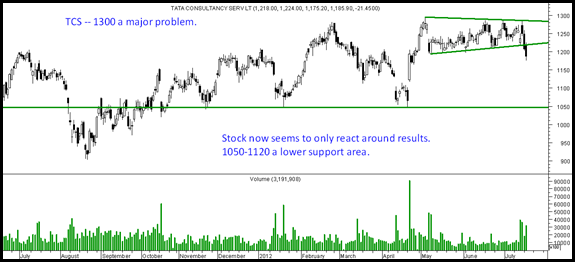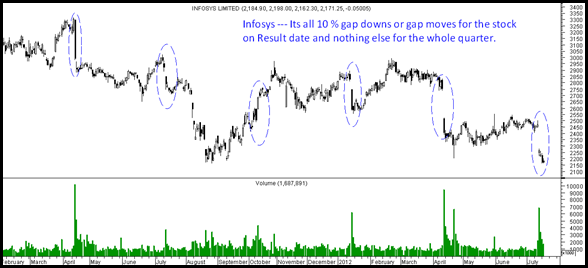 Nowadays its become very difficult for traders to get any bets on IT stocks like TCS and Infy as they only tend to move around results. TCS did a jump from 1050 to 1300 post last quarter results. Another good quarter and stock is now reversing from 1280-1300 levels. Will this breakdown again take it to 1050-1120 gap ? I really dont know !!. Only IT stock as of now which i like is Satyam and Tech Mahindra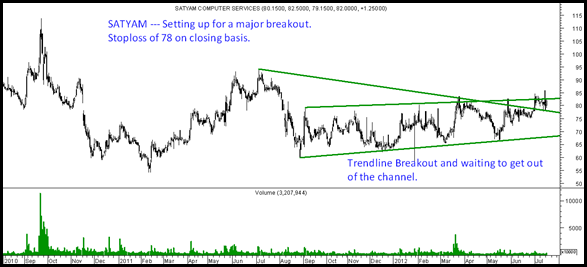 Satyam and Tech Mahindra seem to be very well placed for a major move.
Disclosure: Have been initiating a long from 78-80 and 680-700 with some partial booking at higher levels. Still waiting for the real breakout.
TECHNICAL ANALYSIS ONLINE TRAINING PROGRAM
With many participants not able to make it for the classroom training program we are planning to conduct an online program again on July 28-29.
Requirement – would be a broadband connection and headphones. 
Time: 10 – 5 p.m on both the days.
Fees : Rs 5500.
For more details mail me on nooreshtech@analyseindia.com