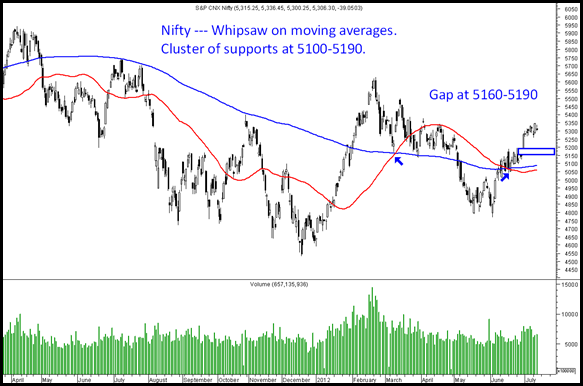 -> The expected ping pong between 5270-5370 got over with Infy results today and a small breakdown below recent supports of 5250-5270 is seen.
- > We may now be heading to the gap of 5160-5190 and 5100-5120 remains a strong area with previous breakout and moving averages in that band.
- > Earlier we saw a nice golden cross at 5300 and now at 5130-5150 we see a death cross. Such a signal coming so fast indicates markets will spend some time in this range.
- > The new range on a broader basis would be 5100-5400.The trend would change to down if it goes below 5000 levels which was the recent important bottoms.
- > The strategy now should be to buy in dips to 5100/5180 with a stop of 5000. The next upside will take time but should cross 5400 ideally and even head to 5650.
The medium term view remains positive but a short term correction is what we are looking for. Start focusing on midcaps again. Sugar sector and micap bank look interesting on sharp dips or in momentum.
Happy Investing,
Nooresh