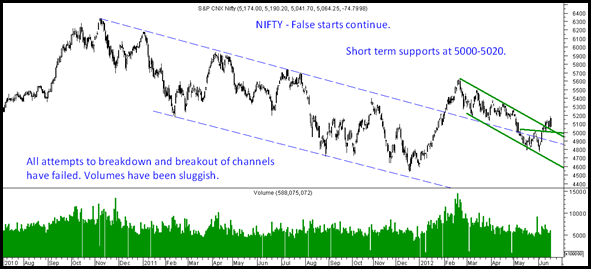 Nifty Technical View :
Nifty over the last 3-4 months has made attempts to breakout or breakdown channel levels but all attempts have led to whipsaws. The
breakdown below 5000-5100 channel supports did take it to sub 4800 levels but managed to claw back to 5100 + levels.
A few days back the move beyond 5100 which looked like a breakout has failed as it was the first attempt. The short term supports are now placed at 5000-5020 which if broken may again lead us to 4850-4900 levels.
The medium term trend continues to remain sideways and long term positive till we continue to hold the 4800-4900 band on weekly/monthly
closing basis. In the short term we may expect pullbacks from 5000 levels.
The bias remains positive for the short term till 5000 holds. On the overall 4850-5300 seems to be a broader range.
Nifty Observations
The current market movements are terrible in terms of follow up price actions and so many outside events impacting markets. We get false starts for a breakout or breakdown.
Channel breakout of January got negated and seemed like a breakdown at 4800 but it jumped up quickly.
The recent channel breakout did not see any follow up action or rather a big engulfing bearish pattern today. But doubts of a follow up action tomorrow prevails.
Given the fact we have an event risk every week it has become difficult to take a short term call and one needs to be very nimble footed and take quick decisions.
Market has been in the range of 4770-5180 but sentiments have swayed to extremes.
Overall there is no reason to be optimistic with no reforms, RBI rate cuts, petrol etc etc  but with the lack of selling pressure seen on breakdowns the reasons to be very bearish also dont exist.
So till the time we see a clean move with volumes and broader market participation we may just trade with low volumes and focus on investment picks and research.
Continue to be optimistic and patient!! No Situation is permanent.
Broader Market Volumes declining
One of the major problems has been that since the last 1 month we have seen a huge drop in volumes in broader markets. At times there are no trades taking place in many counters for hours at a stretch.
This clearly shows the disinterest. In such cases even if stocks fall one may not get enough quantity at the lower prices. At the same time when the sentiment changes it will only take a 20% circuit to change the trend of a midcap stock.
Continue to research smallcaps/midcaps and set up price points where you would like to enter. Also one may look at buying into Junior Bees or Nifty bees as an alternative to accumulation and shift into stocks as when the market trend changes.
Happy Investing,
Nooresh Merani