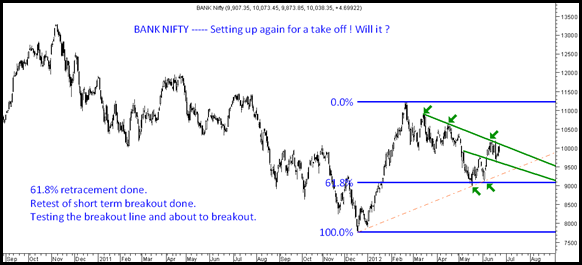 -> Bank Nifty completed and exact 61.8% retracement and almost made a double bottom around that point.
-> The recent short term breakout at 9600-9800 has been tested.
-> The short term resistance of 100050-10200 has been tested quite a few times and the next attempt should most probably lead to a breakout.
One needs to now watch for a break beyond 10200 for a quick move to 10500 where one may review. Overall the trend has turned positive till we hold 9600-9800.
Focus would now be on oversold PSU banks and technically strong ones like ICICI Bank and Axis Bank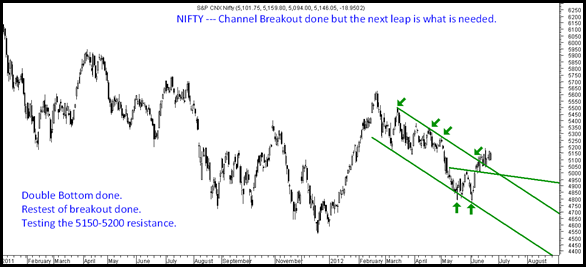 -> Nifty made a double bottom at 4770-4790 levels and has given a strong reversal signal.
-> The recent tops around 5020 has now become a support zone which got tested.
-> The resistance at 5150-5200 has been tested 3-4 times in last few days and next attempt could lead to a spike.
Although trading the spike gives us a target of 5280-5350 which is just 150-200 points and may not reach completely given the fact index has bounced non stop from 4770. But its very clear the trend is up for extreme short term with a strong support at 5020/5080.
If we notice the pullback has been limited to index stocks and now focus will shift to broader markets. The advance-decline ratio improving is a good sign that we may see some smart moves in broader markets.
Oil and Gas sector looks an interesting bet.
We may also now again start focusing on the infrastructure segment which can outperform in a big way in next 3-4 months. The last time we took such a stance was in December on infra stocks. Its a contrarian call and may see a lot of volatility but my bet is some moves in infra stocks will surprise the street. We will look into stock specific charts in coming weeks.
Happy Investing,
Nooresh Merani