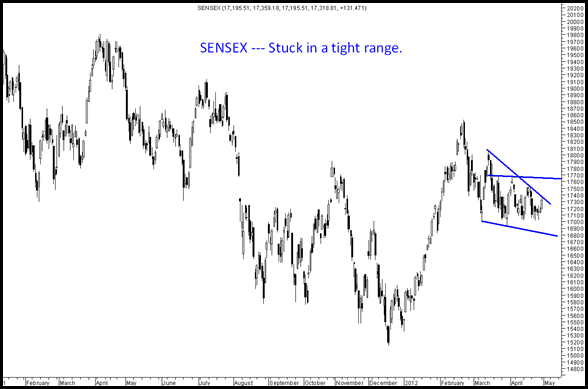 Technically Sensex seems to be in a tight range for a good amount of time.
The way it is digesting bad news the direction for breakout should be up. The reaction to a positive news is way higher in current markets. Above all i again see a sense of frustration among participants so a direction is about to come. Markets will react sharply to any positive news.
S&P downgrade created a bottom for US is it going to be same for us ? Well too early or optimistic to call it but i maintain my positive bias and the approach to accumulate quality stocks in the current period and wait patiently.
Technically above 17600 and 5400 Nifty we will see a sharp run up. As of now we have too many concerns on GAAR, FII, USD-INR etc etc and have too many reasons for a downfall. But people dont have many reasons for an upmove that i believe creates a good window of opportunity for investors.
On the trading front it will continue to be difficult till we dont get out of this range. Pharma continues to be a space of interest but one should now start focusing on the beaten down sectors like infra,metals etc as that is where we may see the sharpest reaction.
Also for all the people who mention Sell in May and go Away need to go back and look into what happened in May 2009 🙂
Balaji Tele seems an interesting stock for punting over the next couple of months for someone who can take a 10-15% risk. Upside could be to 60 levels or more. A techno funda take. Keeping a small exposure.