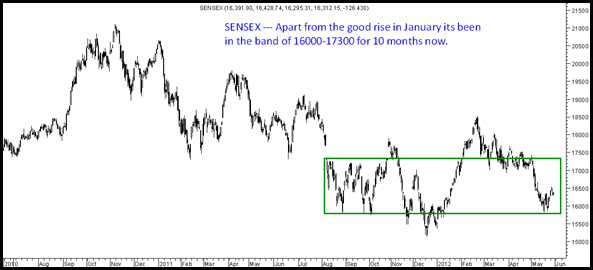 In the last 9-10 months since August 2011 we have been in a range of 16000-17300 most of the times or 4700-5200 apart from a move in January which was a very good period and well timed.
Today there was a GDP data number which came out to 5.3% which is a pathetic number but as a trader market reaction is 15 points on Nifty !!. It seems there is no interest in the market to take a bet on either side.
Globally markets may be down recently but they are way better then they were in August-December.
A petrol price hike lead to some bit of jump but there is hardly any negative reaction to GDP as of now maybe till end of day it could be a different story.
USD-INR has surprised with a move beyond 55. The co-relation is gone. My expectation was we may see a bigger crack in Sensex if USD-INR breaks 55. Now USD-INR is into new territory and there can be no technical resistance levels but its now difficult to gauge the reaction to Equity markets.
Basically its a difficult to take big trades and one has to reverse very fast and risk-rewards are 1:1 or 1: 1:1:1.5. So one needs to be very right and quick.
But from what i see a slew of good news can change the whole sentiment suddenly and i would be betting on that with 5.3% gdp , 56 usd-inr, market cap to gdp ratio at 60% , 5 yrs of no cagr seems the worst is not far and sentiments is at the worst in last 6 years. So all one can do is digest the pain and be patient for the gain.
Disclosure: Totally invested and seeing a 10% cut 🙁 and might have to see up to 15% or more also. Will be going leveraged if we see some more drop.