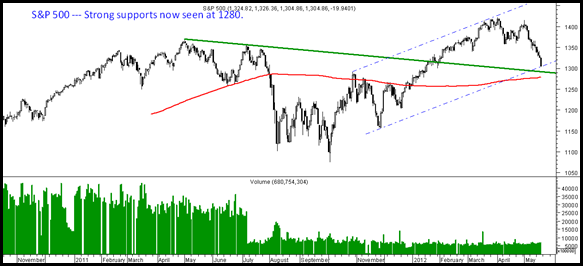 DOW Jones  --- Nearing the 200 day moving average and getting oversold. Supports at 12000-12200.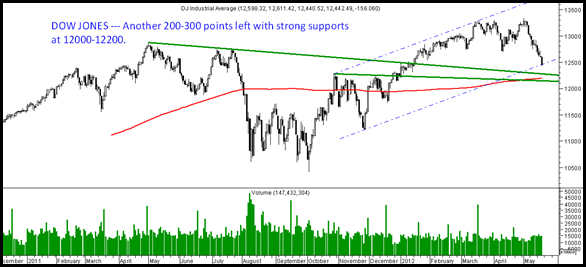 S&P 500—Supports seen around 1280-1270 levels.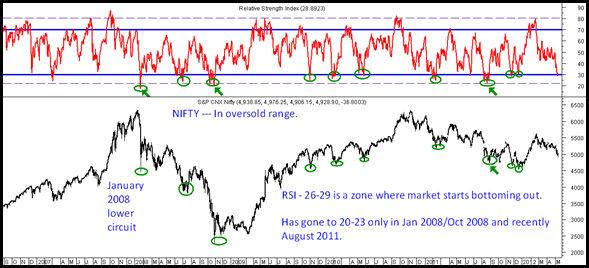 Nifty --- Highly oversold. Further fall to 4600-4550 is also possible but it is a time to just sit back and relax with your holdings or buy more.
Personal View:
First to start with had a view that 5100 would hold and we may breakout above 5600 ! . This has fallen flat on my face.
Recently did expect 4950/4800 to hold and that is taken of and we may even end up at 4550-4750 band in the near term.
Although have got this move totally wrong and got to accept it when you do so. Quite a lot of stocks are down to seriously cheap levels but as of yesterday we are totally invested and may get leveraged here.
Sitting at a cut of 15% notional is very difficult but we need to go through this pain to enjoy the gain later.
Sentiments are at the lowest – The world almost ended in 2008 and a new rally started in 2009 out of nowhere. Will not be surprised by a bounce in June and big rally ending into the year from September to December --- Yes very difficult to fathom it but will stick my neck out.
On the simple p-e basis we are quoting at 12-13 times forward earnings , Market cap to gdp ratio and many other parameters are close to December levels. USD-INR is above dec levels ( i thought it would not go above 52)
All in all bottomline – Investments made at 5000-4600 will hurt you for quite some time but will get relief in June and a good gain by december.
Happy Investing,
Nooresh Merani