Everybody on the street seems to be pondering on what will RBI do on April 17. There has been so much of analysis and everyone is taking a guess and lots of rumours. Last time around even i was looking at the repo borrowings and what not to take a guess if CRR is coming.
But when i react with a normal guy who does not trade equities the answer i get – Whats the big deal about it ? Will that 25 bps or 50 bps make any difference?. I believe we as market participants are more bothered:). Will a no cut stop business ? Nope.
Definitely RBI does give a big signal to the markets but all i know is whatever RBI does is definitely not really bad so let the decision be with them 🙂
Above all maintain my view to get into stock specific ideas at this point of time as there is a lot of outperformance in the broader markets.
Lets look at the technical picture on Bank Nifty and top banking stocks.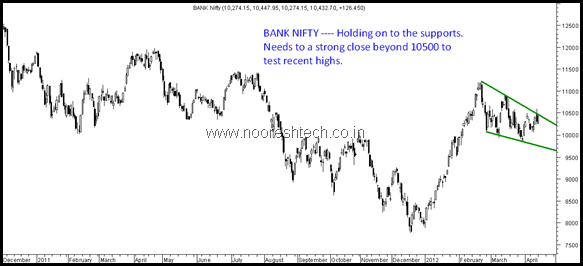 Bank Nifty –—Supports holding tightly and very close to a breakout. After the massive run in January the trend for medium term is clearly up so after the current consolidation the next move should ideally be back to recent highs. But sticking to the rule of no big bets on announcement will wait for a confirmative price action post it. Close above 10500 would be a good signal.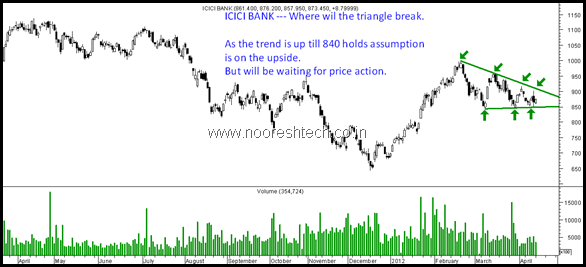 ICICI bank --- Though had taken some longs at 855-860 for a quick trade will now wait for a move beyond 900-910 to look for a sharp spike.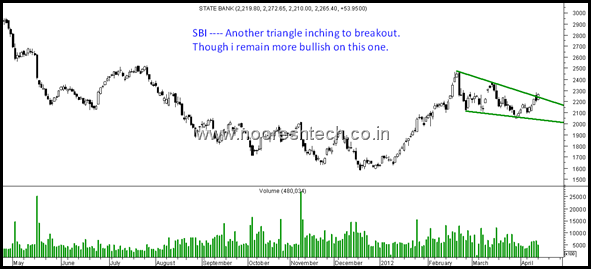 SBI – Very recently had mentioned it as a buy around 2050 and it has jumped back nicely. Now will it breakout and 2500 is to be seen. But if you have bought at 2050 one can hold back or look to buy on declines.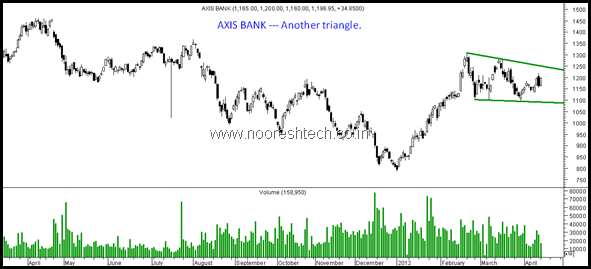 AXIS Bank --- Another triangle.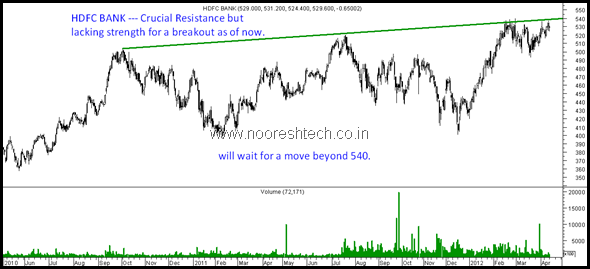 HDFC bank ---This moves on its own.
Bottomline : Technically we are very close to a breakout zone on the Banking stocks. One needs to watch for a price and volume action. Though a short term breakdown point is quite a bit away will keep that open too. My personal view remains bullish but will take hedged bets.
Just a cool take on this --- Over the last few months tuesdays have generally seen big positive moves.
Meanwhile we have launched a new plan which is best suited for Investors with a medium to long term outlook and a passive / conservative approach to investing.
ANALYSE WEALTHWYSE —- Check the link for more details.
The consultancy charges are Rs. 9,999/-  inclusive of all taxes & charges for 1 year.
We had a similar portfolio in August 2011 which stands around 23-25% gains. We had a much conservative approach in it as booked partial profits a bit too early but majority of the stocks have jumped 50% + also from recommended levels.
Happy Investing,
Nooresh Merani
09819225396 ( after market hours only )
Happy Trading,
Nooresh Merani