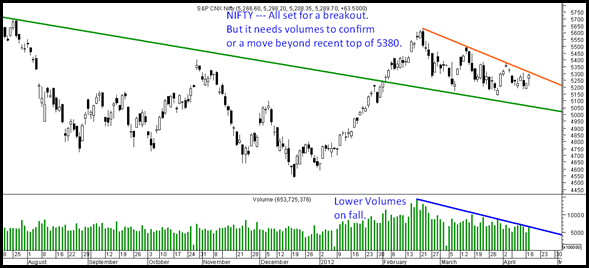 In yesterdays post had mentioned about the view being positive which has remained every time we come to the band of 5100-5200. Also yet again the Bullish Tuesday did work out.
During the day Nifty did react after the initial surprise announcement of 50 bps to take the speculators stoplosses on both side the later half of the day was a slow and steady rise.
Now Nifty is coming to the crucial trendline resistance which is being tested the third time and a breakout above this is needed to take it to 5500-5650.
The consolidation has been on low volumes so a breakout can be confirmed with a higher volume and price breakout or we see a good close above the recent top of 5380.
As the trend is up expect the breakout to be upwards. Focus on stock specific ideas.
Couple of the stocks bought today and some more which were picked in our Quickgains Advisory Service are posted below.
REC – picked around 228-229 for btst.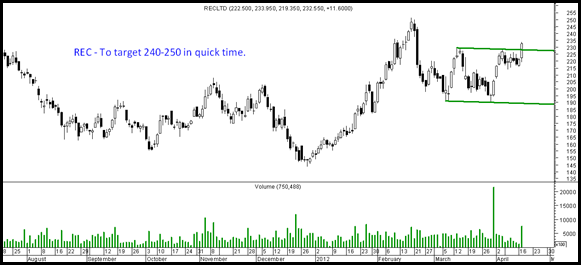 Coal India bought around 350.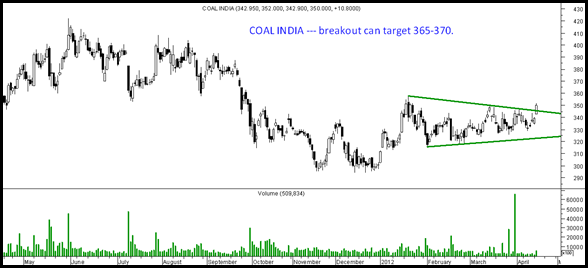 Will look to book the same tomorrow on a spike or keep trailing stoplosses.
Meanwhile Aurobindo did 130 today.
We have launched a new plan which is best suited for Investors with a medium to long term outlook and a passive / conservative approach to investing.
ANALYSE WEALTHWYSE —- Check the link for more details.
The consultancy charges are Rs. 9,999/-  inclusive of all taxes & charges for 1 year.
We had a similar portfolio in August 2011 which stands around 23-25% gains. We had a much conservative approach in it as booked partial profits a bit too early but majority of the stocks have jumped 50% + also from recommended levels.
I would suggest the above plan to all investors reading the website though the belief in medium to long term buying has been shattered for the last 5 years and thats precisely the reason since August 2011 we have been creating a portfolio.
Have you participated in the move from 4600 to 5600 ? Will you like to be part of the next run over 2012 ? If yes then do opt for the above scheme.
For traders its QuickGains - https://www.analyseindia.com/analyseindia/view_services.jsp?serviceid=1 
Happy Investing,
Nooresh Merani
09819225396 ( after market hours only )
Happy Trading,
Nooresh Merani