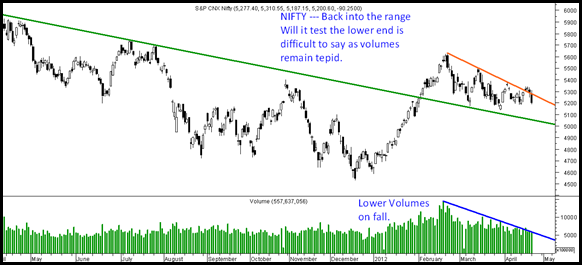 -> In yesterdays post had discussed about the lack of volumes in the upmove to 5340 levels and we need to wait for 5380 to be conquered before we get ready for a move.
-> Todays dip which did come as a surprise ( i did not expect so took a knock on some trades ).
We are back into that boring range for Nifty of 5130-5340.
-> Although we do have supports at the lower end with recent bottoms at 5180/5135 but the current formation in more of a falling wedge so a new low to 5020-5100 will also keep the structure bullish only.
-> But we need to wait for a trigger point above the falling wedge breakout line which would now shift to the recent high of 5340.
-> The downside trend change will be seen below 4900-4950 on weekly closing which is the 61.8% retracement level.
-> Above all if a rally or a breakdown has to be confirmed we need volumes which are totally lacking so we may see this 5100-5350 being tested either side again and again hitting a lot of stoplosses on either side.
Strategy :
Generally such tight ranges are very difficult to trade on large cap stocks and high beta counters. One may need a little longer horizon and buy only on the lower end and even if shorts then only the higher end of the band with stop losses.
We need to keep waiting till we see a clean trigger of price volume to jump in. As of now there seems to be none. A medium term view would be to go stock specific buying slowly on sharp declines ( stock specific not based on index levels) till Nifty holds the 4900 mark.
Traders need to be nimble and even take some losses for some time maybe even weeks but when the trend picks up maybe below 5000 or above 5350 ( keep open both even though we remain bullish) there will be super trades of big 15-20% directional moves in less then a wek.
Investors need to use this period to get into quality names in the smallcaps as they may remain resilient.
This is precisely the reason we have started with a new WEALTHWYSE Portfolio. The last we created a portfolio was in August –November which has yielded 20-22% as of todays closing.
Hope that with gods grace we would be able to do the same over the next 6-12 months in the new portfolio.
We will be closing the entry into this scheme by April 30. To quickly enroll and not to miss the recommendations which are mix of short to medium term and long term core picks subscribe for ANALYSE WEALTHWYSE 
Happy Investing,
Nooresh Merani