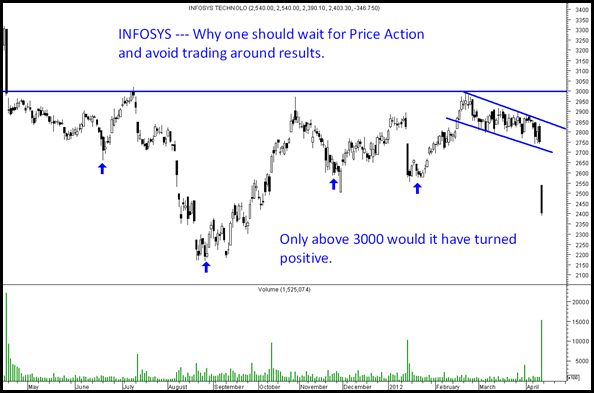 Ever since the day stock came closer to 3000 levels and start dipping and was waiting for a move beyond 2900-3000 for a possible breakout.
Had a couple of times day trades which got stopped out. The stock dropped 10-12% post the results.
Fortunately one of simple rules we follow is to not take a big bet before results be it Long or Short which got us saved. Reasons Infy generally moves 6-10% on result day either side ( Cant digest such a gap ). Till now used to not follow this in midcaps or broader markets but will always keep a look on announcement dates in all stocks.
Lesson Learnt ----
Dont presume or pre-empt breakouts without any price and volume action.
Avoid trades around announcements.
Above all accept when your view does not match market movements – Market is Supreme.