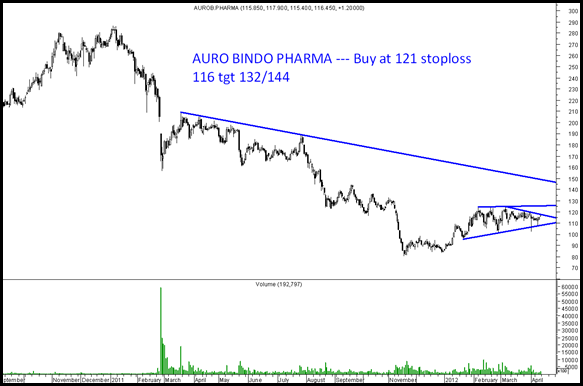 Finally the stock has broken out above the 121 mark. Expecting a move to 132/144 in short term but will keep booking partial profits on the way to reduce risk.
Disclsoure : Have a buy position recommended to clients as well as mentioned on CNBC - https://www.moneycontrol.com/tv/cnbc-tv18-shows/traders-only-2012-04-16.html 
Meanwhile we have launched a new plan which is best suited for Investors with a medium to long term outlook and a passive / conservative approach to investing.
ANALYSE WEALTHWYSE —- Check the link for more details.
The consultancy charges are Rs. 9,999/-  inclusive of all taxes & charges for 1 year.
We had a similar portfolio in August 2011 which stands around 23-25% gains. We had a much conservative approach in it as booked partial profits a bit too early but majority of the stocks have jumped 50% + also from recommended levels.
Happy Investing,
Nooresh Merani
09819225396 ( after market hours only )
Happy Trading,
Nooresh Merani