This is one of the incidents which happened with me?
The concerned person has been trading and investing for quite some time now. We had a quick trading call on 3i infotech some time back which i just happened to mention after a detailed talk on BOC and NESCO:).
I would like readers to put in their comments for the cloud box.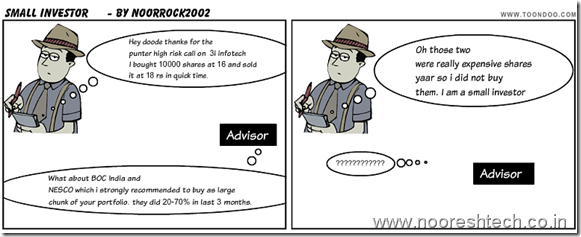 The chap was ready to put 1.6 lakhs in a 16 rs stock 🙂 but not buy 100 shares of BOC India or NESCO at 300 and 550 respectively.
Will be discussing many such issues;)
One of the major one being Patience/ Absolute calculations and Leverage.
Happy Investing,
Nooresh Merani