As part of reducing the myths of the general investor it seems this comics is the best way to put across.
Recently i was recommending a friend to buy Clariant Chemicals, Aditya Birla Nuvo, Nesco with a long term view.
This is what i got.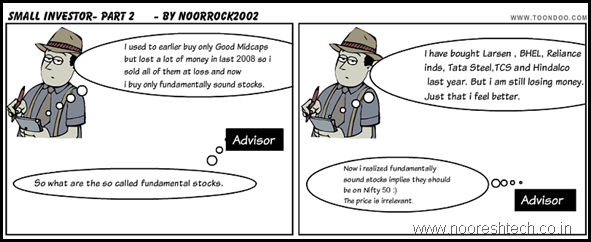 Meanwhile he did not even check out the fact that Aditya Birla Nuvo is a 10k crore market cap company 🙂 and holding company of the Birla Group.
Things to learn:
- > Just because a stock is in Nifty 50 or Sensex 30 does not imply its a fundamentally sound stock.
-> Just because a company is a known name its a great company.
-> Every company can be great but it comes at a price and that is a very important criteria.
-> The market conditions and timing form a very important factor for investment.
One of the simpler things which comes to mind is in December nobody was interested even in the so called fundamentally sound stocks.
Happy Investing,
Nooresh Merani