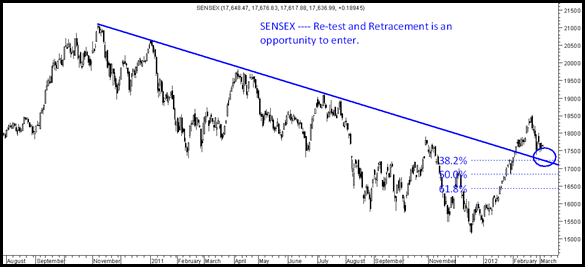 Sensex Technical View:
->  The technical breakout for the Sensex happened around 17000-17500.
->   Generally post the breakout the first move is not able to create the impact and comes down to retest.
-> Index seems to be going through this phase of retracement/retest which comes in the band of 17500-16900 broadly.
-> Also the 38.2% retracement comes closer to the channel breakout.
-> In a retracement its difficult to time exactly and entry point. So one may go slow and buy the dips and be stock specific as all stocks may not go the same way.
Continue to focus on quality midcaps.
One may look at Godrej Properties in the Real Estate space with a long term view.
Sintex Inds – earlier breakout was at 75-80 and dips to those zones could be a good entry point with a long term view. Accumulate.
I continue to maintain the bullish stance on the defensive Aditya Birla Nuvo and Smartlink 🙂 although both the stocks have not performed as such but the value remains the same.
Investors may even look at certain infrastructure stocks like Gammon India with a medium to long term view for high risk high returns.
BOC India one of our favorite defensives based on Valuations and Delisting them has performer brilliantly from 300 to 480 levels. Although market is abuzz with delisting rumours i would not stick to the stock anymore on fundamental reasons 🙂 but with the irrational moves in MNC space would definitely consider to book profits to large part of the holding. Unfortunately we booked profits at 450 🙂 in our Model Portfolio for Advisory clients.
On the same them we did get into Goodyear India and FK oncho recently which have jumped up quickly and may well book profits.
Somehow i dont like all MNC and 75-90% shareholding stocks being treated the same way. Its a more fundamental call here and majority of them dont justify such valuations and if the delisting does not go ahead many of these stocks can drop like a rock.
Would just advise investors  to be cautious 🙂 from here on in the delisting theme.
As of now we would be focusing on the Pharma stocks as a good structural play for next 3-4 months. Downside can be bought into and expect a good 15% jump.
Political View :
Of late many investors have been asking what is the impact of UP polls,Budget etc on the markets.
I am not a political analyst ( they go more wrong) and neither an economist so have no view on the impacts of the above events on the markets but general observation is the trend is not changed by such events.
Right now the trend is up and knee-jerk reactions may well be an opportunity. Focus on the quality stocks.
Also this is the best time to start looking to build a strong portfolio and in rise get out of dud stocks.
Were you able to spot the turnaround at 4700 or 5100 Nifty ? If not then you need to start using technicals 🙂
TECHNICAL ANALYSIS TRAINING SESSIONS SCHEDULE
AHMEDABAD 17-18th MARCH,2012.
BANGLORE 24-25th MARCH 2012.
To know more contact: Kazim on 09821237002 or Asif on 09833666151