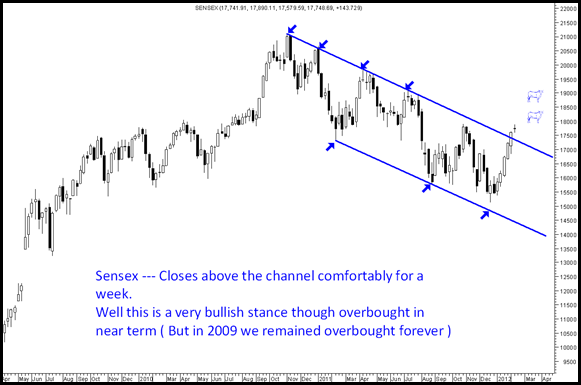 Sensex Technical View:
As sticking to my view that there is no point buying a breakout above 5200 on the channel but the real time was to buy at 4700-4500 which gave you supreme buy opportunity.
Now if we look at he chart purely on technicals without having a view that index has moved from 4500 to 5400 and stocks have jumped 50% or more etc.
All i see is a clean Channel Breakout and a sustained closing above it for a week. Also i see a doji which gives me caution but needs to be validated by a break below 17500. Yes the markets do look overbought and with negative divergences ! but the whole of 2009 was the same 😛 so no point fighting the trend and shorting without any reversal signs ( stock specific shorts have killed with a 30% jump ) .
Simply put the trend is positive and if one has built a portfolio at 4500-4700 there is no need to get out but to ride for the long term and be ready to buy more on dips 🙂
Also stock specific research and buying opportunities should not be kicked away purely because markets have rallied. On the other hand if we believe markets have made a long term bottom at 4500 then the worst case scenario becomes pretty digestible and one can keep looking for short term and long term opportunities irrespective of the index.Above all stocks move on their own trends !! ( Example we had been shouting Cements at the top of our voice for last 3-6 mths they outperformed benchmarks as they did not fall in the dip to 4500 )
As many people could not time the bottom so now all Analysts have been trying to time the top (:P well we did too at 5180 🙂 got hit and since then have been following the trend which is clearly up) which will give good amount of supports to the market on dips as consensus is still pretty bearish.
So you would see many analysts telling it should correct today,tomorrow or next week 🙂 in their comments everyday :). It makes the job easier whenever it falls 😛 come ahead and shout Maine Bola tha 🙂
Try to remain stock specific and look for opportunities on either side rather then staying in hope or assumptions. Many
Strategy : Technically short term supports at 5200/5330 upside resistance now directly shifts to 5600-5700. But with so many people calling a correction it will take its own time 🙂 focus on specific stocks as expected the momentum to shift to midcaps/smallcaps and selective upmoves will continue.  Also defensive stocks with good value will perform with time. BOC India has moved from sub 300 to 400 without any effort.
Disclosure: We continue to remain pretty much invested with a little cash generated coz of partial profit booking and increase in the value. Also had been employing a lot of leverage at lower levels in the trading recommendations. January was by far the best month !! in terms of monthly returns. Also buying specifically into stocks in an accumulate mode.