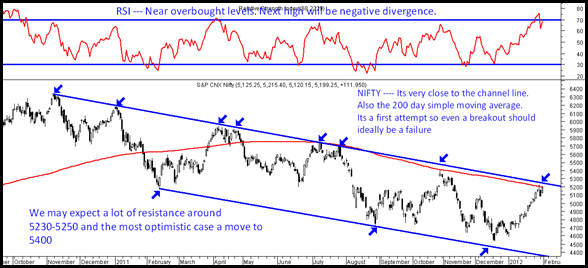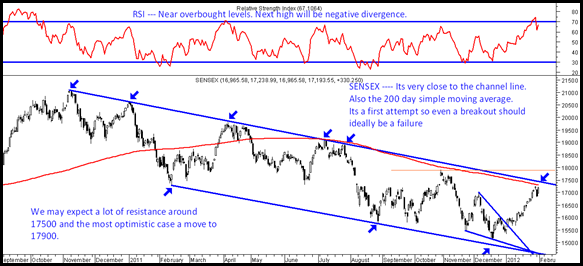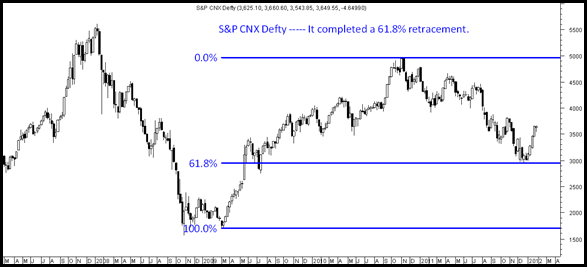 SENSEX and NIFTY --------------  Setting up for a False Breakout - Be Cautious
- > RSI has touched above 70 and Index has corrected generally after doing so in this channel. Although it has even moved to 80 in sharp rises.
-> This is the 3rd attempt to cross 200 day simple moving average and after such a sharp rise it cannot get into a runaway rally.
-> The first breakout out of a downward sloping channel is generally a false breakout followed by a consolidation.
We may expect 5230-5250 and 17500 as critical levels for near term and any sharp spike in case of short covering can get next resistance at 5400 and 17900. Such a new high will show negative divergence and lead to sharp cuts. One may be cautious at every rise from here.
On the longer term picture we have seen a major long term bottom made at 4530 as the pullback crossed previous high of 5100 with good broader market activity. Also S&P CNX Defty did a complete 61.8% retracement.
Major supports are now placed at 5000 for short term.
Although for us we did initiate a short at 5120/5180 with a stoploss of 5230 booked half at 5130 odd levels. We might get stopped out if Nifty closes above 5230. But on the whole we remain very long on specific stocks and the last 1 month has been one of the best gains !! Hope people did act on our view of a short term Rally posted in start of January.
Stock Specific updates:
Adhunik metals, Electro Steel Castings, Prakash Inds and small cap steel companies seeing a lot of buying interest. Speculators can pick their own bet.
Keep watch on Cement sector stocks can see some explosive moves in February
Balaji Amines, Berger Paints, Elecon Engg, Hexaware, Kaveri Seed are some interesting midcaps which can give good returns over the short term.
For more of our exclusive services do checkout www.analyseindia.com
Meanwhile here is a online copy of the Economic Times Article where some of my comments have been posted ----
https://www.analyseindia.com/analyseindia/readPost.jsp?postid=149 
Happy Investing
Nooresh Merani