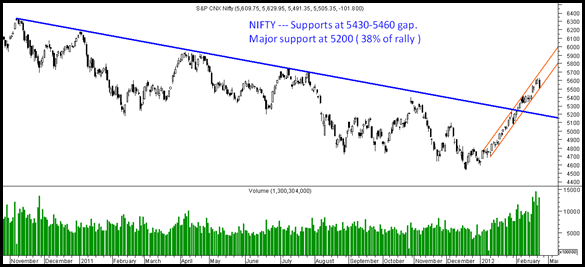 Nifty Technical View :
-> The rise has been one way and a correction is natural but the move from 4600 to 5600 is 1000 points and suddenly people are not ready to accept a 100-250 points correction.
-> Generally corrections can be 23.6%/38.2% or even lower but one can at least expect 23.6% once a top is confirmed.
-> Such a correction level would be 5380-5400 and 5200.
-> In the near term yesterdays low 5490 and 5430-5460 could be supports for the day. There are many supports in this range so i would just wait and watch and react with the market.
-> Overall the strategy is pretty simple Buy on Dips 🙂 ( easier said done unless you have made good money over the last 1-2 months )
-> Above all its time to be stock specific. Today index is down by 100 points but stocks are down 7-10% broadly which clearly shows we may necessarily not see precise levels on Nifty and buying or selling should be on stock specific levels.
Strategy:
- > Todays fall as suddenly created a scare among participants. Have got queries what to do now – ? Sell ? etc and so on. Reason being not many bought at 4600-5000:) and late entrants who did not gain in January are scared to lose some money.
-> This is what a 1000 point rally does to any Investor/trader even a 100 point or 10% drop scares 🙂 big time.
-> As a trader one may take a hit of 5% stoplosses in this period but it would not matter if you would have made regular 15-25% trades over the last 1-2 months.
-> Today was a day of few stoploss hits 🙂 for us too but losing a bit out of supernormal gains keeps you grounded and prepared for the next series of good trades.
-> The strategy is very simple now be stock specific and buy on declines. Cover back sold quantity at lower levels. ( example if sold NESCO at 740-770 buy back the same at 680-620 gradually)
-> Be very stock specific and dont be bogged down by an Index level. ( Were you left waiting Nifty 4200/3800 and so on ? Well then now why wait for 4800-5000-5200 if you have a medium term horizon keep particular stocks on radar)
-> We continue to maintain the view that any correction to 5200 will be a buying opportunity if it comes. But will stick to stock specific approach as Index is just 30 stocks 🙂 and our spectrum is 3000:)
-> Also i would be a little brave to say that this is the only time since the last few years where over the next few months if i were to Buy a good quality stock and maybe got in at higher levels will prefer to hold on/average even after 10-20% cut 🙂 ( Else strategy was to be strict with stoplosses even on investments) . Only For the reason that the Medium to Long Term trend has changed and we may not see 4530 and 15000 levels.
Stocks to watchout for :
A new stock Bombay Burmah Trading Corporation is added now to the long term defensive favorites like Godrej Inds, Smartlink, Nesco, Abnuvo,BOC  and so on. Investors with a 1-2 year view may keep accumulating on declines.
Numeric Power Systems looks an interesting bet on dips to 250-230 if it comes.
Disclosure: Continue to remain invested in the portfolio created through 4950-4600 and Medium Term Investments with quite a lot of profit booking done all through the rally. Will be looking to buy in stock specific dips and if Nifty dips to 5200 may look at a few large cap names.
TECHNICAL ANALYSIS TRAINING SESSIONS SCHEDULE
MUMBAI 25-26th FEB, 2012.
AHMEDABAD MARCH,2012.
To know more contact: Kazim on 09821237002 or Asif on 09833666151
Happy Investing,
Nooresh Merani