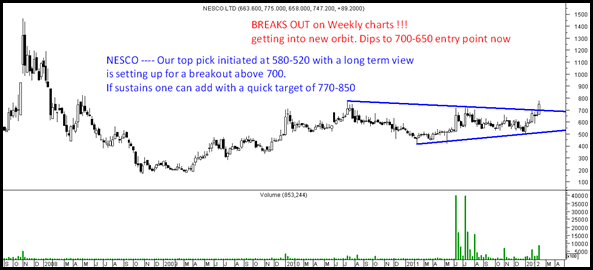 Todays 11 % move in the stock confirms a breakout on weekly charts and now it can go into a new orbit.
Had posted about this yesterday that above 700 it should go towards 770/850. The first target was done in the day. So those who traded may keep some part of profit as holding in NESCO for free with a long term perspective.
Only thing to note is delivery volumes were 10% which shows a lot of speculative activity today. One may now look to enter on dips to 700-650.
Continue to maintain the long term view on the stock and booking partially 10-25% of quantity depending on risk-apetite can be done on rise to 800-850 and keep the rest for long term.
Also ABM Knowledge up 6% seems people have got interested. Got very good reviews on fundamentals but only thing to see is whether the company scale up to exponential growth from consistent growth.
Disclosure: Yet again the repeat --- Bullish bias on the stock as a personal top pick.
TECHNICAL ANALYSIS TRAINING SESSIONS
DELHI 18-19 February
MUMBAI 25-26 February
Also if you would like us to do the program in your city and have a group do let us know onanalyseindia@analyseindia.com
To book your seat call Kazim 09821237002. If you would like to speak to me regarding any doubts SMS me  Nooresh – 09819225396 ( will get back to you post market hours )
Happy Investing,
Nooresh Merani