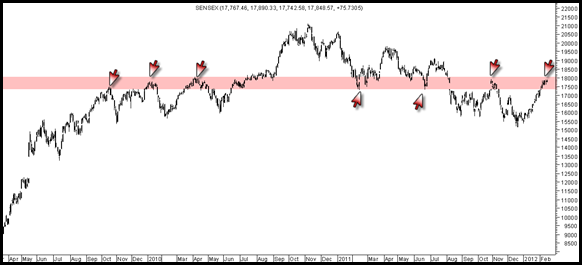 Sensex --- the band of 18000 was a problem for a very long time. When it broke that it did 21k. Next time it broke it went to 15k.
Basically a 3000 point move on either side.
Will this break again be a trend changer ?
Now lets look at the small cap side.
Bse Small Cap Index --
During this period of 18k the band came to 80000-9000 for the Small Cap Index. But in the recent falls post Feb and August decline we have seen a huge erosion in small cap prices.
Is it possible to see a rise in Small Caps in a large way like 2009 where Index kept stopping at 18k but Smallcaps kept roaring ?
Also Small Cap is yet to catch up? Good possibility Index stays sideways and rally continues in the smallcaps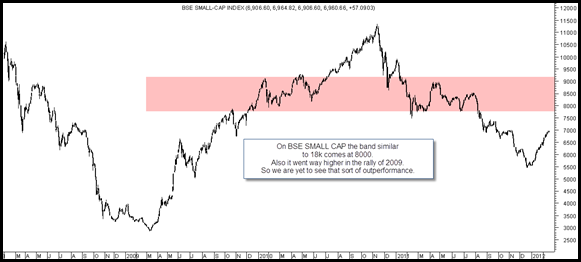 Expectation is we may see stock specific action for next couple of months even if the benchmark Index – Sensex/Nifty correct.
Also with the huge crash in last 1 year in midcaps i see a lot of long term investors or even normal investors booking out at small gains even in really good stocks. ( Just an example one of my friends sold of Nesco at 10% gains from 550 to 620 itself and is now feeling left out ). This pattern generally is seen at start of a turnaround. Finally the same set of investors jump in after standing out for long !.
So if one is convinced about the long term then should hold on and ride with a trailing stop loss. Also what if this market rallies like 2009 ? the best way to do so is a trailing stoploss or only booking partial profits to reduce cost. Also we believe the current breakout is a long term trend change so its now a Buy and Hold to Buy on dips.
Dsiclosure: We continue to remain invested very much and the focus has shifted to smallcaps/midcaps over the last 2 weeks. Investors should bear in mind that smallcaps can lose 10-15% drop pretty easily in a bad environment and gain 50% also quickly. So please do your own research and asset allocation.