In end of October we had posted a detailed view on Cement sector as the next big bet for medium term with a focus on large caps like ACC, Ambuja Cements, Ultra Tech and Grasim. It was clearly suggested that even in a market meltdown they would not take a hit.
Sensex at 17300 Nifty at 5200 in October end when we posted this. Now they have moved up to 17900 and 5350 whereas all the cement stocks are in 52 week or 5 yr highs with a gain of 20%.
Before this we had made structural calls on Telecom and Auto Sector which outperformed the indices.
This is the detailed posting on Cements – The next sector to watchout for view.
Also one can read this
which was made around the same time.
Just two days back had posted about Ambuja Cements . The stock has moved from 165 to 180 in quick time.
Also mentioned about Grasim setting up for a breakout – Link  with a clear disclosure that we have picked it up at 2550-2590.
Stock has zoomed from 2580 to 2880 in last 1 week. This is how the chart now looks like 😛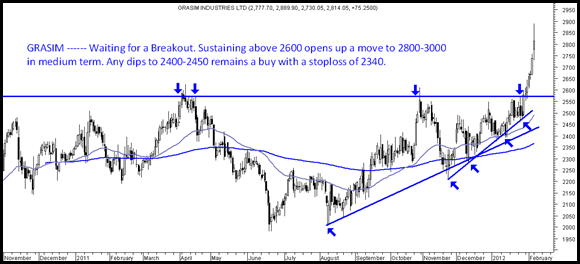 Ultra Tech has moved from 1150 to 1380 !
We had even mentioned that Midcap Cement companies also look very attractive on valuations. Though the focus remained at getting 20% from large caps we missed the opportunity to get into stocks like Mangalam Cements, JK Lakshmi, Heidelberg etc which have given a 50% + move in short time.
Very recently the focus on PSU Banks which we particpated in OBC,UNion Bank and some more though we took profits at 15% they have rallied further.
Now the sectors under watch are Media, Midcap Steel, Infrastructure but will wait for some dips.
Hope readers did benefit from the above reports and made some money. If you did do comment and pass this website to others.
There is a facebook share button on every post as well as a retweet.
Also if you would like to subscribe to our services --- Do check www.analyeindia.com or write in a mail to analyseindia@analyseindia.com
If you have any queries do write to me on nooreshtech@analyseindia.com or sms me on 09819225396 ( will get back later in the evening )
TECHNICAL ANALYSIS TRAINING SESSION ———
BANGLORE FEBRUARY 11-12
DELHI       18 –19.
BANGALORE  February
For more details contact Kazim 09821237002.
Happy Investing,
Nooresh Merani
Analyse India