A few days back when we hit 5200 i had a view that we could see a good correction in private banks and that has gone totally wrong ! and they have gone into the roof. Although we did see a 3-5% pullback where we could partially and get out totally on a trailing stoploss hit with marginal losses.
Also we were looking out at Nifty topping out for short term around 5200 levels. We did see a 1 day drop to 5080-5100 but then reversed totally.
Keeping it simple we were trying to pre-empt a possible topping out trade which did not work out and the momentum has gone beyond. This clearly shows the trend is positive and one should stick to it till it does not show reversal signals.
Also on the long term we have made a major bottom for a very very long time. Dips may now be only 38-50% retracement. Yes we believe we have bottomed out ( repeating it again )
But what is interesting is all the private banking stocks which we expected to see resistance did a small dip and have clearly broken out on weekly charts. So one may now change the medium term outlook on the same.
YES BANK ----- A clear breakout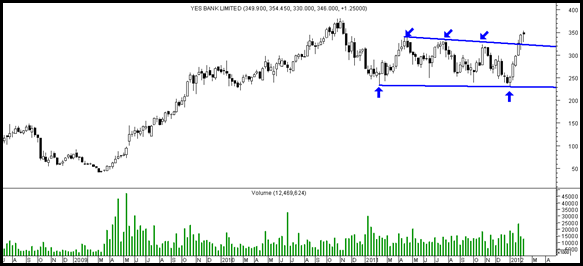 Quite a clear breakout and that too in the first attempt from the lower end. Did not expect ! got hit in shorting it.
INDUS IND BANK
This has crossed the 280-300 band and now into lifetime highs. This is a very positive signal but we should still see a dip before the next directional move.
KOTAK MAHINDRA BANK -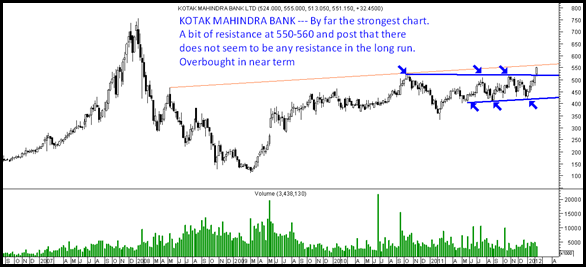 This is the best chart in the sector. Will expect it to be the best bet from here on. ( did not expect it to break out – thats why could not stay much on this long trade taken at 500) ..
HDFC BANK ---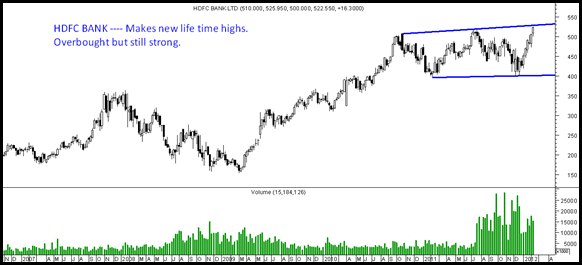 The most preferred by all institutions just hit a life time high !!. Now its nearing a trendline resistance but this is very surprising to see such a sharp move in a small time in here.
Clearly its giving some unusually positive signals. Will look into it on dips.
Bottomline :
Although i had a bias towards PSU Banks in this dip ( they have performed almost the same or little more) but the view that private banks would underperform from 5200 Nifty has fallen flat. The resistances have been pretty easily. Although they are overbought one needs to re-look the longer term outlook which surely gives a lot of positivity. Would not be a buyer at current levels but will definitely look towards it on any further dips.
Kotak could be a momentum play. On the overall banking space i still believe we have a lot of pace in PSU banks and the smaller ones ( yes they can still continue ) . Although i still favor SBI as the favorite in the long run ( had been advocating a SIP at 1900-1500 and even lower if goes. One may still hold )
Nifty and Sensex Technical view:
I would sum it up quickly. The long term trend has changed. The Bear cycle is over but consolidation/dips will keep coming. In the short term we are overbought but ITS NOT OVER TILL ITS OVER. So better to ride the trend till we see clear cut turnaround signals. Will review retracement levels only then.
Expect midcaps/smallcaps space to sparkle in coming days. Also even if Index were to fall from here expect side counters to see action. Above all its a MYTH ----- if market falls everything falls !!!
ALSO cannot update all the trading calls on the blog. If you have benefitted from the blog pass the word around.
Lot of investors first BUY OR SELL and then ask queries or thinking. If you have been on that boat then would suggest to start going for advisory services – www.analyseindia.com  or join one of our training programs to equip yourselves.
TECHNICAL ANALYSIS TRAINING
DELHI 18-19 February
MUMBAI 25-26 February
Happy Investing,
Nooresh Merani