I have just taken a quick look at the stock and may study more over the weekend.
The basic reason for me to first look into the stock after 3-6 mths when i first looked at it was the technical reasons which clearly gives me a short term buy above 45 close. Yes its very simple that it can move up to 55-60 quickly.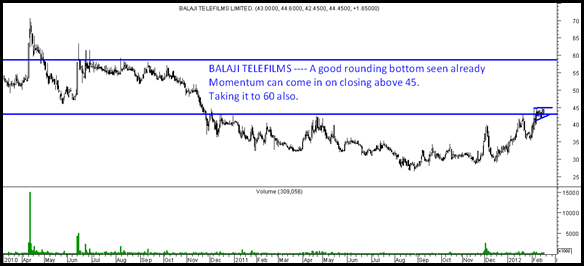 On the fundamental side there are way too many reasons to not buy the stock at the same time i see a good enough margin of safety if i have to bet on Ekta Kapoor.
- > The company has 256 cr of cash and cash equivalents + will receive another 8 crs for selling of one division. This should give 18 –20 cr of interest.
-> There is a liability risk of around 220+ 90 crores of Service / Sales Tax. ( I think this should be settled at a pretty lower price or keep dragging forever)
-> The current market cap is around 290 cr.
-> There is no debt with the company but it keeps making net losses.
-> The company has Balaji Motion Pictures which did lose money in 2009-2010 but did super with Dirty Picture. The next few pictures will also get sold out easily 🙂 coz of previous performance ( Industry Norm)
-> The profits of 2011 for Motion Pictures will be seen only in March results. ( this could be a really good profit and the past results show company takes profits on the company books )
-> They recently sold a land parcel for 50 cr and has been accounted in the company books. With the results being very well presented one can believe the company in terms of transparency.
The reasons to buy.
-> Even if the networth is taken to be cut into liability which i doubt it would be a zero debt entertainment company at 300 cr market cap.
-> There is no belief in the market place for the promoter coz of its earlier legacy and problems.
-> The Balaji Motion Pictures is back on track. Ekta Kapoor did create lot of best selling serials and can replicate it in Movies and seems to be on track.
-> The Dirty Picture revenues at 85 cr will suddenly make the company seem profitable in April.
-> Shree AshtaVinayak quotes at a market cap of 350 cr with debts 🙂 and full of issues.
-> If the liability goes out of the picture or is settled the Moving making company is for free. Also company has 250 cr cash + some more assets.
-> On the feel of reading previous results one can trust Balaji tele reports whatever it makes or loses so i dont have concerns on siphoning of funds to a big scale. Yes but Ekta Kapoor can turn cranky and lose a lot of money too. Btw she did buy a small quantity as per insider trades.
-> But one can expect a high risk high return gain in this stock. Better Srategy Once you get a good 30-40 % jump exit a good chunk of the holding to reduce risk. Technical stoploss at 40 🙂 .
The above work is only a quick one and needs a lot of more detailed research. Would appeal readers to put in their comments. So please do your own research on the stock. Whatever be it not a stock to bet big on 🙂
Happy Investing,
Nooresh Merani