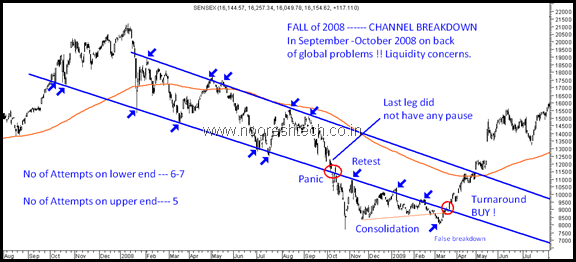 Majority of the things are posted in the chart itself.
Now some important things.
- > We had 6-7 attempts on the lower end and that is where the breakdown took place.
- > The last leg did not see any pause. We just bounced back for a day from supports to crack further.
-> Post the breakdown we saw a huge panic with a slew of global news/high volatility.
-> We did see a re-test to the channel line and kept on testing it for the next few months.
-> The turnaround post 9.7k did not give any chance and within months we were at 15k !!
Some conclusions.
- > Breakdowns happen in the line of most tested end of the channel.
-> The panic creates a major long term in a ferocious bear market.
- > The turnaround is equally fast and may even see a false breakdown.
Now come to 2011
- > We have had more attempts on the higher end of the channel. So a breakdown on downside looks less probable.
-> The fall is very slow we have had 13-15 months like before but we have not seen a sharp correction like 2008. Also we do not have a preceding bull run like 2007 🙂 so this will be slow and steady bear market or a consolidation in a long term bull market.
- > Now the point is how can we expect a fast down leg like 2008. This is what majority of the market-men are waiting for and will keep waiting forever. 🙂 ( this is my view )
Observations
-> Since we did not have a fast bear market neither can we expect a september-october 2008 type fall nor a full on reversal like 2009 leading to up circuits.
- > So my view is we may now get into a consolidation with downside risks at 5-8% lower then recent lows in worst case. Also we might have touched bottoms on specific stocks already.
-> Apart from that if somebody is looking for a fall below the channel then it has to be a start of a new bear market and not the last leg.
Conclusions
-> The bear market which we are in is not like 2008 so stop comparing with it and expecting similar bargains may not be a great thing.
-> Also we may now start looking for stock specific ideas unless you are on the camp of a new bear market !! beyond the normal 38.2% to 61.8% ( that is beyond 4300 and 13000 levels.).
-> Above all reversal will not be like 2009 so a breakout beyond the upper end of the channel will not be a buy !! but a time to get cautious as we still need a consolidation.
Disclosure: As we are almost 90% invested at lower levels and rest on the trading side by start of the week we had trading positions of 15 stocks open ( now barely a couple ) !! so the gains in 1 week can add to the bullish bias. But overall as maintained in previous post we might be reviewing our stance of considering base case at 4300/14000. View remains to be stock specific and very defensive in long term portfolio and very aggressive on short term 🙂
Stock specific wise – NESCO ( back from 502 to 600 + ) , Adiyta Birla Nuvo ( 715 to 820 ) , Godrej Inds ( 170 to 190 ) keep trading part of the quantity to reduce acquisition cost.
For more of our services --- www.analyseindia.com
Meanwhile the New Year Gift offer at Rs 2999 for a year may not stay for long --- For more call Asif 09833666151
Happy Investing,
Nooresh Merani