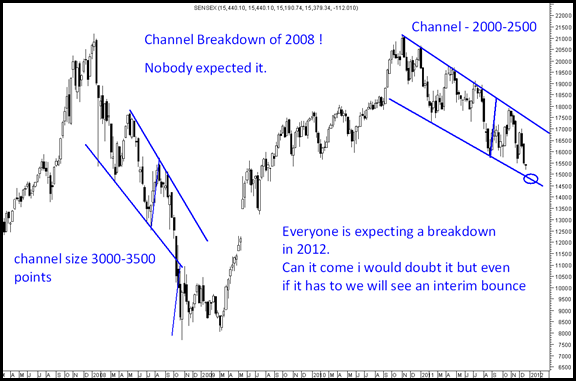 This has been one comparison which has been scaring me as an analyst as well as everyone on the street seems to be pretty confident of such a breakdown being played out before market bottoms out.
The previous channel was around 3000 and breakdown at 11000. This move led to a fall to 8000 levels which was more over accentuated with the news flow at that time.
Now currently we have a 2000 points channel for which a breakout point comes to 14800 that gives a drop to 12800-13000 levels in case of some adverse announcement or out of the blue scenario.
The previous bear cycle of 2008 had seen a lot of froth being created in 2007 with lot of margin pressures and that was precisely the reason for a deeper correction. In comparison to 2008 we have already spent 13 months in the current cycle almost equivalent to the previous cycle so i would term this a consolidation.
In the last 6-7 years of my experience i have never seen such a strong bearish consensus. A last bullish consensus was in 2007 🙂
So when every body expects 13000 and 3800/4000 will it comes i would doubt that. With such a VIX of 30 already people are preparing for such a fall.
Market tends to surprise the consensus.
Bottomline: 
Index may or may not go 13k and 3800-4000 levels but many stocks are on their way. So as an investor prepare for notional losses of 15-20% on the portfolio provided you have stuck to quality stocks and be ready to buy slowly in panics.
One of my favorites Aditya Birla Nuvo is down 760 😛 i expect 800-820 as a bottom is giving a good opportunity to buy. its a pure funda call ( technically its pretty weak can do 720 also )