The current market has been very choppy in cases and very clear in some other.
Quite a lot of stocks tend to drop like a rock in a breakdown whereas some tend to whipsaw sharply.
Some examples below.
Ashok leyland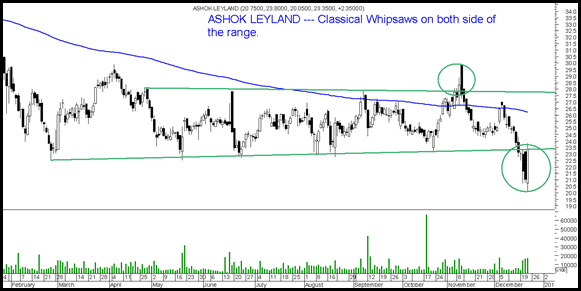 This is one stock which got us trapped at 27 odd levels. Had to average at 24-25 to get out at bounce.
A couple of sessions back it gave a clean breakdown below 23 but is now back above 23. Although volumes were supportive.
Couple of reasons for the bounce. The dividend yield becomes really interesting at 23-20 levels.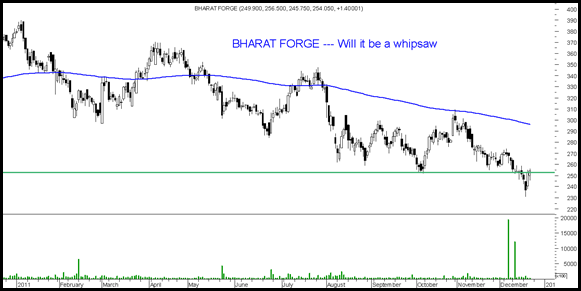 Bharat Forge --- This was one of the short trades initiated recently. Keeping in mind the current status was booked 4-6% lower and now its possibly staging a whipsaw.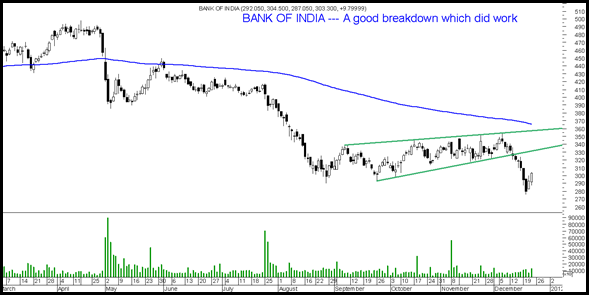 BOI --  A breakdown which did crack pretty quickly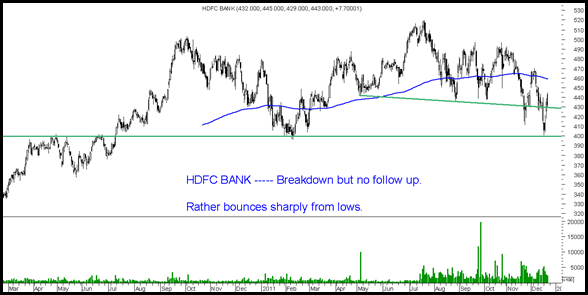 HDFC Bank ---- The stock is one of the main stay in the index not letting the Sensex/Nifty crack. Any breakdown is seen by a faster pullback.  Even HDFC Limited sees similar pullbacks.
Just a few quick charts posted.
Aditya Birla Nuvo one of the stocks recommended at 800-820 as entry price has dropped a bit more to 730-750 levels. Still remains a fundamental call with a medium to long term view. Continue to hold and add. Technically 740-700 seems a strong support. Will keep a long term stop on weekly closing below 700.
Some stocks under research --- Repro, Aarti Drugs , Mazda Ltd, Atul Auto , Puneet Resins ---- Just came on my screeners if people tracking please post a comment or mail.
TECHNICAL ANALYSIS TRAINING PROGRAMS PLANNED FOR JANUARY.
Also for people who cannot join at our courses in Mumbai or other cities we have started conducted a 2 day online training program. For more details of the schedule speak to Kazim 09821237002 or mail to analyseindia@analyseindia.com
A nice sms and bbm being forwarded of late.
Sale  * Sale*  Sale
Share mkt me jabardast sale,
Sugar sector pkd- 85/- Renuka, bajaj hind & balarampur
Bank sector pkd -
500/- me 7 Bank
IDFC, IDBI, UCO, DENA, VIJYA, ANDRA & SYNDI.
Infra sector pkd-
85/- me
GMR, LITL, IVRCL, GTL & SREI Infra
Realestate Sector Pkd- DLF, HDIL, Unitech & IBR only Rs 300/-
Very Spl offer in Branded items-
KSOIL - Only 6/-
Punj- only 38/-
Happy Investing and a Happy Christmas ,
Nooresh Merani