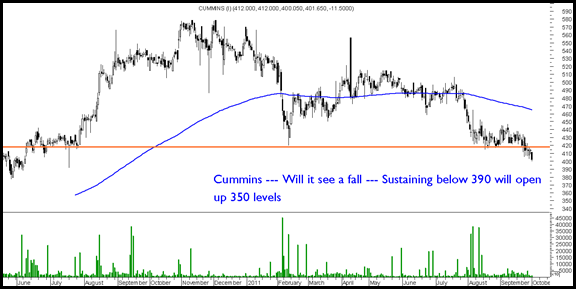 Cummins ---- Breakdown confirmed but no follow up.
Axis Bank --- Fall but with less pressure can expect pullback in coming days.
Technically this is a consolidation for the markets and it will continue to give surprise hits on either side. Traders need to be cautious and keep lower volumes and wait for right opportunities. Have seen a few stops being hit over the last 1 week.
Nifty may stay in this range of 4750-5150 for quite some time it seems. On the broader end 4500-4550 on downside and upside to 5320 remains an extreme case. Go stock specific and that too in lower positions be it short or long. Long term Investors may continue to use every panic for stock specific buying slowly.
JB chemicals may get interesting at 55-60 levels on terms of cash available.
TECHNICAL ANALYSIS TRAINING SESSION ————— MUMBAI OCTOBER 8-9
For more details contact Kazim 09821237002 or mail on analyseindia@analyseindia.com
Also would suggest readers to take this bearish phase as the best time to learn technical analysis so that you can profit from it in the future. The best time to learn is now !! and the 2 day training programme we conduct is the best way to do it and all it requires is an interest to learn and no other pre-requisite knowledge.