For past two months had maintained the long view on Cements which have all gone up 10-15% against a falling index.
Now if we look into long term charts it shows a much more rosy picture.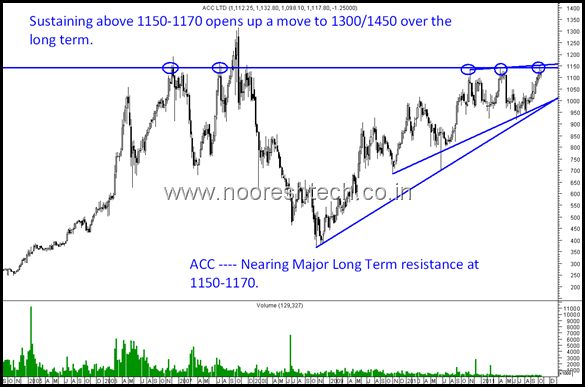 The stock is making a 3-4 year Inverted Head and Shoulders Pattern with a breakout point placed at 1150-1170.
In the last 3-4 years the stock has faced resistance at 1150-1170 apart from a spike to 1200 + levels in the peak of 2008. Over the last 1 year we have already seen 3 attempts. Generally the stock takes a good 10-15% dip after such a hit but we are seeing the stock hold on closer to 1080-1100 mark indicating good strength.
The stock has outperformed the benchmark indices in the current dip and is a good defensive stock in the Index with limited downside.
The stock can be accumulated at 1100-1130 and any dips to 1050-1080. Stoploss to be kept at 1020 and a target price of 1300/1450 in the long term.
Investors may even look into midcap/smallcap cements as the next sector to watchout for on every dip and Valuations are attractive on midcap side. \
We maintain a strong long term view on ACC, Ambuja and Ultra Tech and Shree Cements … Will update more on specific levels soon.