A quick conclusion of the analysis on BSE Midcap Index
 Although the benchmark indices Nifty and Sensex did go back to touch the 2008 highs the midcap and small cap indices came nowhere close to the 2008 levels. Currently the index is down 38% from 2008 highs whereas Sensex and Nifty are down 20-22% from 2008 highs.
 From the recent peaks of Nov 2010 the index is down 27% as well but is just above the February lows.
With a severe under-performance in the midcap index it suggests that the current rally till 21k/6.3k Sensex/Nifty was in no ways a euphoric rally and the current downmove remains a correction and we might be in the last leg of it. Short Term supports are placed at 5900-6100 and every dip till those levels would be an interesting time to look for selective buying.
 Surprisingly the index is closer to the peaks of May 2006 and Feb 2007. The similar peaks for Sensex were at 12700 and 14700. This indicates Midcaps are already at levels equivalent to 13-15k Sensex.
 The relative resilience to the index fall suggests there is no panic in the broader segment and we suggest the current dip is a good opportunity to look for quality midcaps.
GVK Power, Lanco Infra, NCC Limited , IRB Infra and Jaiprakash Associates ( index ) are in the process of making long term bottoming out formations and any sharp fall in them can be used for slow buying.
Some more index charts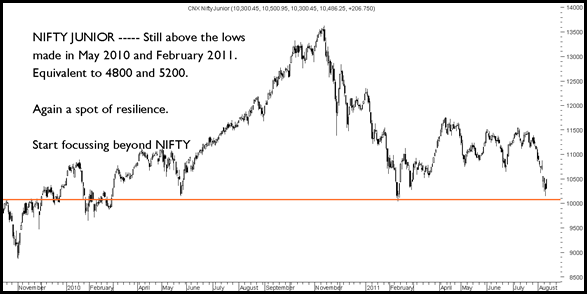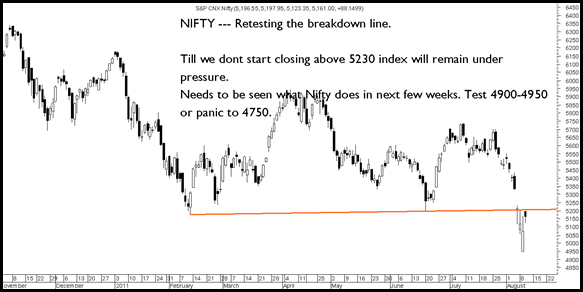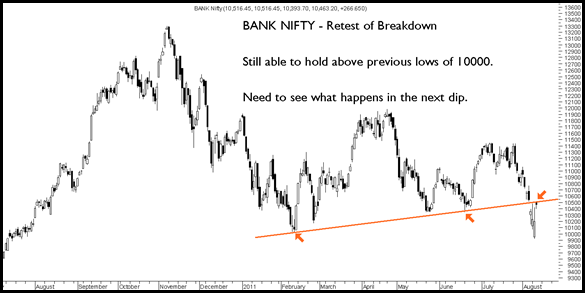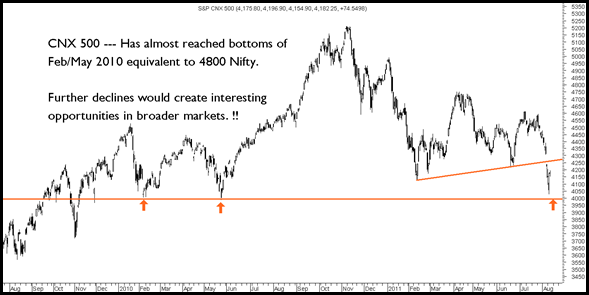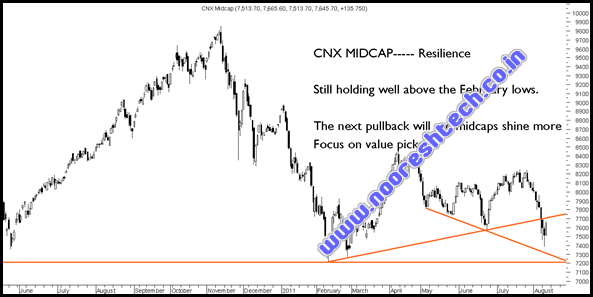 Happy Investing,
Nooresh Merani