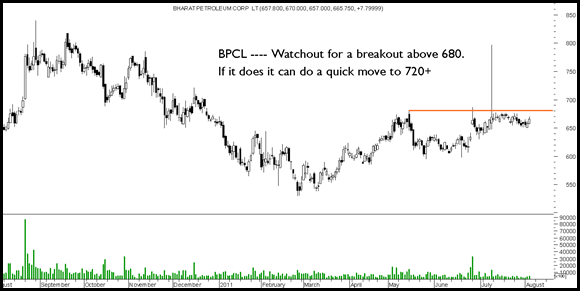 BPCL – Continues to face resistance at 680 levels. Sustaining above it with volumes can give a quick move to 720 +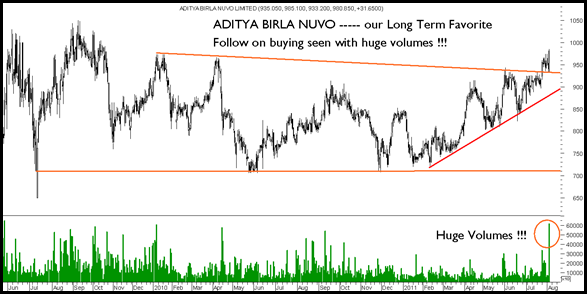 Aditya Birla Nuvo -
This has been one of my favorites recently with a medium to long term view. Would maintain my short term target price of 1050 and 1100-1200 in medium to long term.
Traders may look to buy at 965-985 with a stoploss of 950 for a target of 1050 in short term.
Just a message sent to our delivery gains client on June 17   - Low made after that 821 which gave good accumulation period. Now booking slowly on every rise.
CORE PICK ADDITION ------ ( Can buy to the extent of 15 % of portfolio )
ADITYA BIRLA NUVO
Accumulate in pyramid manner by increasing exposure at every decline.
buy 25% qty only at 880-900
accumulate by adding on every decline till 850/820.
The stock will catch momentum above 945-950 where one can add rest of the position.
Target Price - 950-1050 and 1200
Time Period - 6 -12 months
Regards,
Analyse India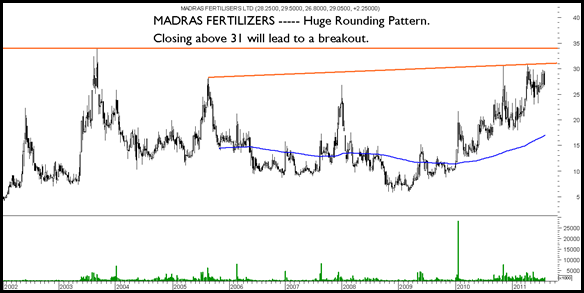 MADRAS FERTILIZERS ----
A huge rounding formation for last 5-8 years indicates there a possible turnaround in the company.
Need more views from fundamental experts 🙂 Technically a major breakout on close above 31
Online Technical Analysis Workshop on
August 6th-7th
To know more on Discounts & Details contact: Kazim on 09821237002 or Asif on 09833666151
Cheers,
Nooresh