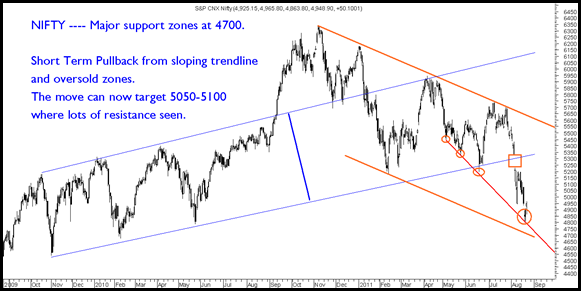 Nifty has yet again taken support on the sloping trendline on the downside shown with circles. Generally it has seen good amount of pullbacks after a test of this line.
We may not expect the pullback to target 5050-5100 levels and a maximum upside in extreme scenario to 5180-5230. One should look to reduce part of holdings bought at lower levels.
The next dip after testing the above resistance levels will give a clarity of a short to medium term bottom in place.
GMDC has given a breakout above 174. Buy on dips with a target price of 190-200.
Bajaj Auto updated around 1515 levels on the website is yet another breakout for a target price of 1600.
Jain Irrigation looks good for the day with a target price of 185-188 stoploss of 172. ( reco btst )
Rallis India is a breakout which could head to 185-200 in short term.
Regards,
Nooresh