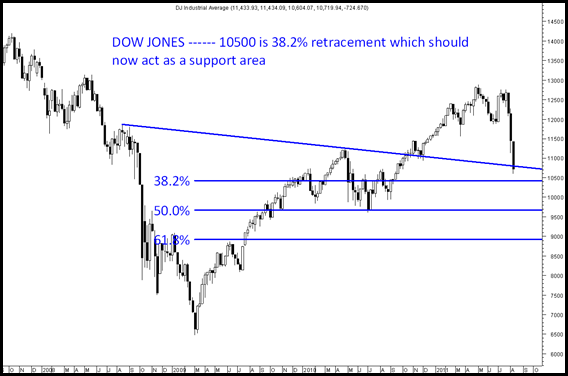 Dow Jones Technical View:
Although the technical setup pointed to 11150-11250 or 11400-11500 holding up on Dow Jones but the S&P Downgrade was the killer.
In my previous update - https://nooreshtech.co.in/2011/08/dow-jones-bks-below-momentum-trendine-rsi-indicates-relief-rally-in-coming-week.html
This is what i had mentioned
-> RSI is back to the lows of 30 where it has generally bottomed in 2009-2011.
-> Only time the index has gone below 30 was in 2008 when there were plenty of out of the blue announcements and trigger. In the worst case of some announcement it can go to 10500 levels.
RSI dipped below 30 on friday and we saw an out of blue announcement by S&P Downgrade did the trick and Dow made a low of 10604 whereas in the futures it did come to 10400-10500.
So from here on the downside supports are placed at 10400-10500 from where we can see a sharp bounce back.
The earlier trend of Sell Emerging Markets and Buy Developed markets which worked for last many months now seems to be turning.
So buy emerging markets and sell Developed markets will be the new strategy 🙂
I maintain my bullish view on Indian markets but more on the broader market side and not on Index. Downsides to 4700-4750 or 4900-4950 is the base but upside remains super in broader market.
One of our favorites remains Godrej Inds which was recommended at 195-205 made a high of 235 + is now at 215. Investors with a horizon of 3-6 months as well as 1-5 years should accumulate the stock on any sharp decline or SIP. Can be a large part of the portfolio with low downside risk.
There are a few more stocks which we are getting into and will be discussed in the future.
Happy Investing,
Nooresh Merani