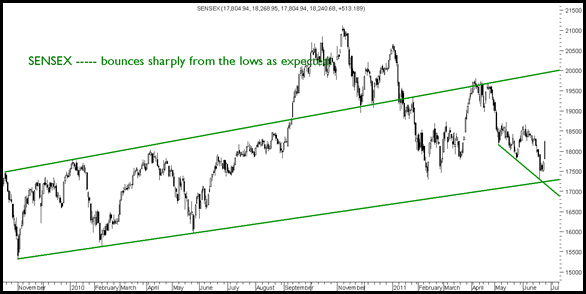 In my last post had mentioned about RSI being oversold and we could have already seen a short term bottom or we are very close to it and advised selective buying. Read the full post here
Of the top index picks only Maruti has been on the weak side the rest are doing good.
In all my previous posts had been clearly mentioning the importance of 17300-17000 being a strong support zone and one should look for bounce back trades closer to it. Sensex low made is 17314.
Also a couple of weeks before had mentioned about not focusing on the Head and Shoulders pattern which may not work out well and is more of a pattern of convenience and need not be used in isolation.
Although on copy book technicals it may seem to be a head and shoulder but as seen above chart we need to look into the longer term channel which has three previous bottoms. In simpler terms none of the technical patterns can be taken in isolation and one needs to amalgamate all the technical observations before making a conclusive analysis.
We may also look into an interesting observation of how one needs to use Nifty and Sensex analysis together to get a more clear picture.
For now lets get into the short term Technical Picture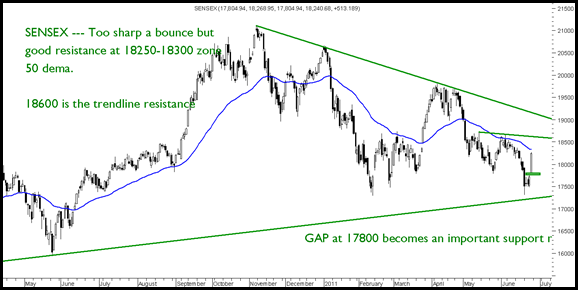 Sensex Technical View :
- > The strong bounce back with a good gap suggests the support for now comes to around 17800 which is a bit deep from current levels so one may look towards profit booking if bought on declines.
- > On the upside 50 dema at 18300 and previous trendline resistance at 18600 will be very strong resistance.
- > With the bounce back being sharp there could be good trading opportunities in specific stocks.
Will discuss specific stock charts in the next post.
Regards,
Nooresh