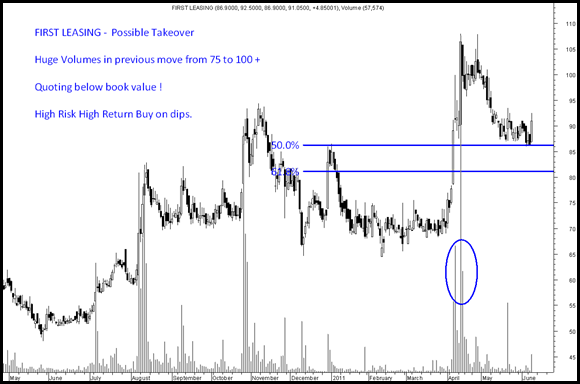 Technical View:
The stock made a huge move from 75 to 100 with high volumes and delivery volumes.
After that the stock had been consolidating around the 50% retracement.
Yesterday was a first pullback volume tick which has been confirmed by todays strong move.
Fundamental View
The book value of the company is 137 with a consistent dividend record and a conservative management. Market cap of 226 crores.
Some time back there was a buzz for A C Muttiah to exit the stock - https://articles.timesofindia.indiatimes.com/2011-04-13/india-business/29413400_1_first-leasing-c-muthiah-book-value 
In that case if the company is to be sold it should be at a premium to book. So high risk traders/investors can have a look at the stock slowly on dips with 3 mths view.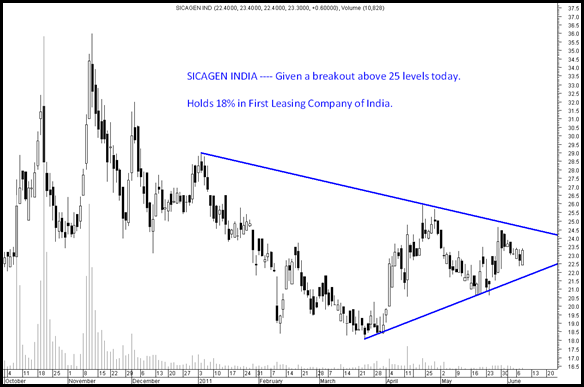 SICAGEN INDIA -
The stock is a pure value bet but the stock is totally a Muttiah group co and with concerns.
Current Market Cap – 100 crores
https://dealcurry.com/20100429-Sicagen-s-SDB-Cisco-Stake-Sale-Deal-Falls-Through.htm  This values one of its holdings at 100-150 crores.
First Leasing Company of India stake is worth around 50 crores.
Also it has some stake Southern Petrochemicals and some other group companies and also does some business too 🙂
There is a lot of value but will it be ever unlocked will lead to major gains. But a bet worth taking for high risk investors.
One of the reasons to mention the above two stocks is both are up 5-8% with large volumes indicating some insider buying. Interesting stocks on dips.
Disclosure : Have recommended at 20-24 Sicagen and First Leasing Company at 88 levels with a long term view. Even some speculative additions at current levels advised.