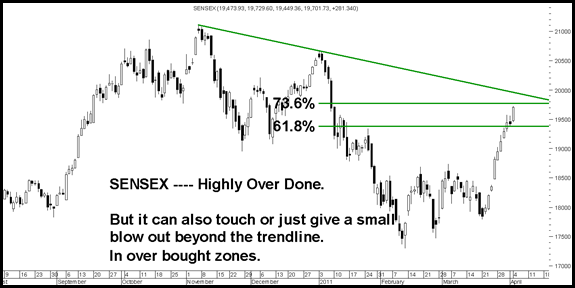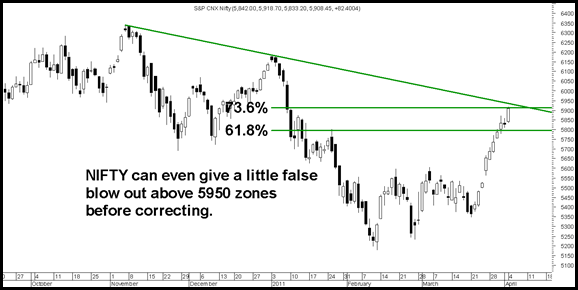 We have updated the performance reports on Analyse Options and Commodity Advisory services which is our new offering and has continued to offer good returns to traders.
Click on the link below
Sensex and Nifty Technical View:
There are no signs of stopping seen as such with markets getting into over bought state and we have not seen so many continous up days.
The expectation was we may see some pullback from last top at 19600 which has been taken off ( stopped out ) and the next logical zone is closer to 20k and 5950-6000 on Nifty which comes to the trendline.
There is a good possibility index creates a false move above the trendline before correcting.
Till we dont see a move below 5800-5850 on Nifty and 19400-19450 we may not be able to confirm a pullback.
There still remains a big disparity in the benchmark indices Nifty/Sensex and Broader Indices. The last couple of days have seen some moves in Midcaps/Smallcaps finally.
Till markets stay above 19500-19400 and 5800-5850 we may continue to see strength in select midcap/small cap counters.
Will not be recommending any fresh long/short trades for this week as i have noticed readers with a left out feeling may take fresh positions and not necessarily exit on stoploss hits or on targets being achieved.
Quite a few stocks were covered in the last few weeks which have given excellent move and after quite some time we got good stock trading opportunities in the last 2 weeks. Would prefer to be a little more cautious at this time.
Stock Idea – SmartLink Network Systems  Would like to invite comments on the above stocks from the readers.seems and interesting bet.
Also seems worst is over for stocks like Prakash Inds, Sun flag and metal mining stories. We may soon see positive moves in the space.
Even the transformer stocks like Emco deserves a watch.
My personal expectation is Midcaps and Smallcaps may see real action after May-June. So one should start looking out for interesting turnaround stories.