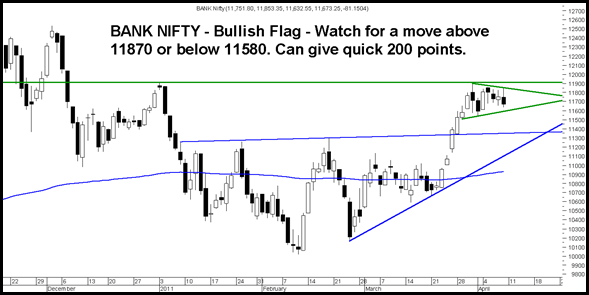 Bank Nifty:
After giving a good breakout at 11100 Bank Nifty gave a good clean move till 11900.
Currently it seems a nice bullish flag. Also there is a previous top around 11912.
The range for now is nice 200-250 points. Any move sustaining above 11870 or below 11580 can give a 200 point move.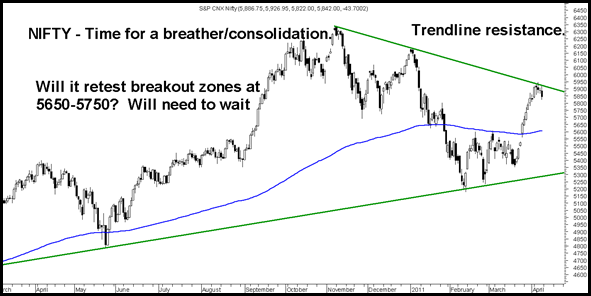 Nifty Technical View:
In the previous posts – (Click here for previous post ) had shown the trendline resistance on Sensex and Nifty suggesting overbought zones.
Nifty got resisted around the trendline.
On candlestick patterns we have seen a reversal signal further confirmatory move below 5810-5800 could open up to 5750-5650 support zones.
Its time that index takes a breather and consolidates as the upmove has been sharp. Till it doesnot cross 5920 we may continue to see selling pressure on every intra rise.
Index traders may review a long bet around 5650-5700 if it comes.
TECHNICAL ANALYSIS TRAINING SESSION PUNE APRIL 23-24.
Regards,
Nooresh
for any queries mail only on nooreshtech@analyseindia.com