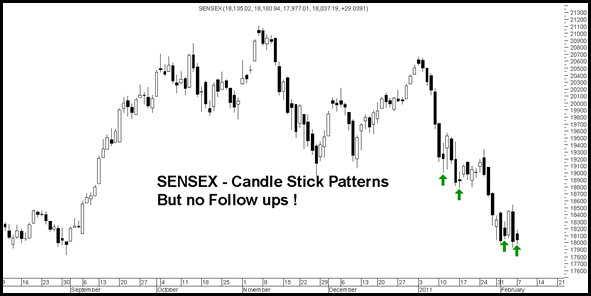 Sensex Technical View :
In the last 3 weeks everytime there was a ray of hope through some respite and a positive candlestick pattern the markets have cracked further.
We see a doji, harami followed by just one positive day and the next day bang the markets fall. So its a very indecisive market it seems for traders.
On friday Sensex saw a very bearish candle and Monday its a bullish harami which clearly indicates market is not ready to go anywhere but after 3-4 instances its high time market will find a short term direction. Traders should be on high alert for market signals.
On a simpler basis 17800-17700 and 18500-18600 are two zones to watch for.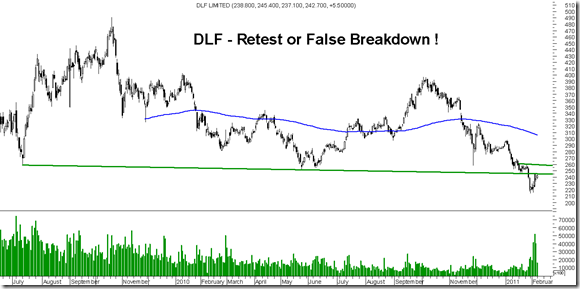 DLF :
Previously had mentioned that DLF could enter a new down phase if it drops below 245. Stock did fall below 245 and cracked to 215 but has sharply recovered.
Whether this is a retest or a false breakdown would be clear in next few days. A move above 260 would indicate it was a false move.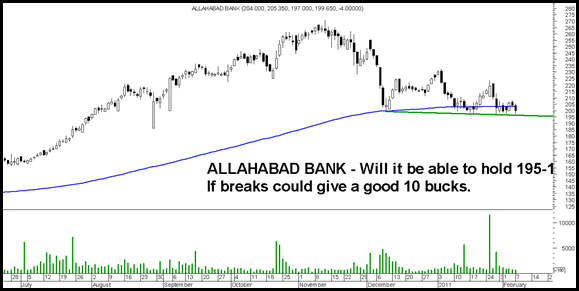 Allahabad Bank :
The stock has been testing 195-197 levels for quite some time. Will it be lucky again or crack to 185 quickly on drop below 195. Quick traders can keep a watch.
Even UCO bank below 102 could give a quick 5% trade.
Pipavav Shipyard is one stock which has been holding strong in the current correction. Above 85 the stock can also give a spike to 100 it seems. But one may be careful 🙂
Regards,
Nooresh