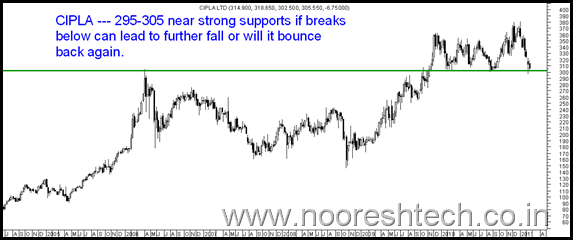 Cipla :
The stock has a previous major top of 2006 of 305 and recently last two bottoms at 300-305.
Two possibilities are the index stays above 300 and bounces back 10% or a fall below 295 creates a 10% drop.
Traders can accordingly position themselves.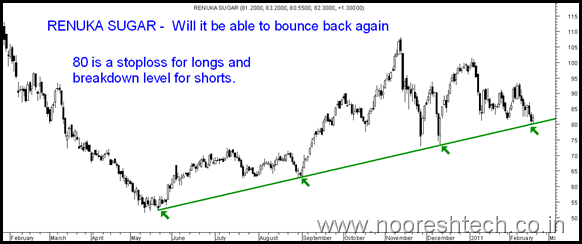 Renuka Sugars
As seen in the chart Renuka has been bouncing back sharply from the trendline which we have been using to time our entries on dips.
Currently the stock is testing the trendline for the 3rd time which reduces the probability of a bounce but market buzz suggests there could be some export announcement for sugars by govt in near term ( pure rumour)
Technically 80 is a trend decider. Go long with a stop of 79.5 and reverse position to short below 79.5. Bounce back could take the stock to 87-90 quickly.
Pipavav Shipyard :
The stock has been sustaining well in the total correction.
Sustaining above 85 can give a quick trading jump to 95.
TECHNICAL ANALYSIS TRAINING SESSION DELHI FEBRUARY 26-27  ( Last two seats left)
For more contact Kazim 09821237002
Nooresh