This is one of the best stocks listed not because of valuations but this is one company which produces a lot of good hindi movies which work at the box office.
But the stock does create a lot of hits and flops. At a current price of 20 which is half of what it was few days ago is still quoting at a market cap of amost 1700 crores. The company still doesnt make enough profits with a high p/e and a risky nature of business but the stock keeps inching higher and one fine day crashes to nowhere.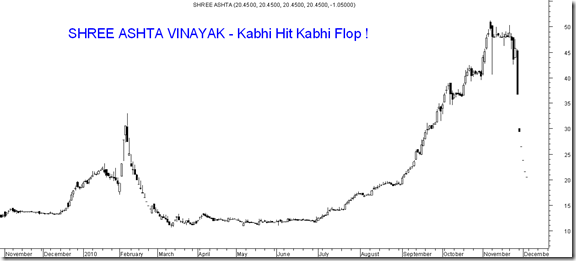 The stock earlier did not crack even in the 2008 crash as such and then tripled from 11 to 33. Quite a lot of it was related to the action of split and a huge auction. ( Had alerted about stock hitting continous lower circuits which it did from 18 to 8 )

In the past few weeks after release of Dabang had mentioned about the stock being highly overvalued. The stock continued to surge after that but has now cracked from 48 to 20 non stop with no exit possibility.

The only concern is the stock is highly controlled and operated 🙂 but it would be a good bet if comes to 10-12 levels 🙂 though i doubt it would.
Investors are advised to strictly avoid penny stocks in the current scenarios ! as quite a lot of them can just fizzle out into 30% drops.
Regards,
Nooresh
Analyse India